Lehenga Choli: A Quintessential Attire for Indian Traditional Festivals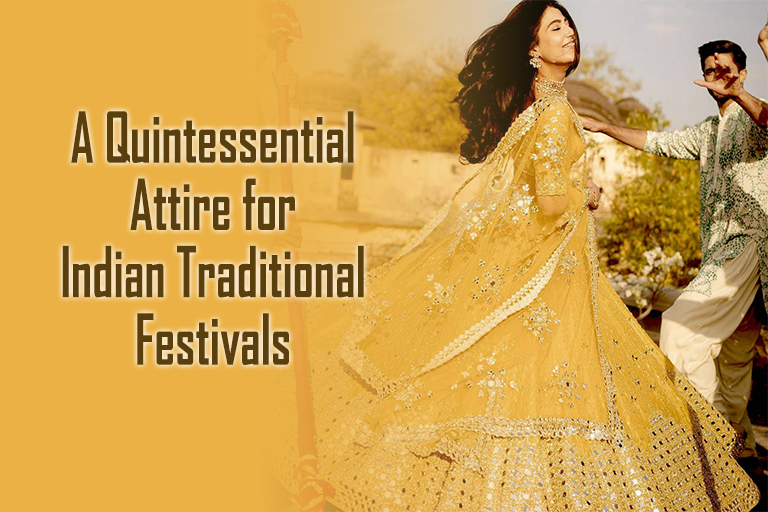 Indian traditional festivals are a vibrant tapestry of culture, spirituality, and celebration. These festivals bring people together to revel in the rich heritage of India, and what better way to embrace this cultural fervour than by adorning the exquisite Lehenga Choli. This iconic ensemble is an embodiment of grace and elegance, making it the ideal choice for women during Indian festivals.
1. Diwali Celebrations
Diwali, the Festival of Lights, is a time when India dazzles with lamps, lanterns, and the warm glow of festivities. Women dress in vibrant Lehenga Cholis, often adorned with intricate embroidery and embellishments. Bright and cheerful colors are the norm, reflecting the spirit of this joyous festival.
2. Durga Puja Extravaganza
Durga Puja is a celebration of the goddess Durga's victory over evil. The atmosphere is filled with devotion and grandeur. Women can be seen in resplendent Lehenga Cholis, often in traditional red and white colors. These outfits are a symbol of strength and tradition, echoing the divine feminine energy.
3. Navratri Dance Nights
Navratri, a festival celebrated with nine nights of dance and devotion, calls for Navratri Lehenga Cholis that allow for fluid movement. Vibrant and colorful Lehengas adorned with mirror work and embroidery are the preferred choice for these energetic dance nights.
4. Eid Elegance
Eid is a time of gratitude and togetherness for the Muslim community. Lehenga Cholis in pastel shades with delicate embroidery and lacework create an elegant and modest look that's perfect for this occasion. These ensembles are a fusion of style and tradition.
5. Raksha Bandhan Reverence
Raksha Bandhan is a celebration of the bond between brothers and sisters. It's a time for siblings to come together and exchange tokens of love. Women often opt for simple yet elegant Lehenga Cholis in shades of pastel, symbolizing the purity of the sibling relationship.
6. Pongal and Makar Sankranti
Pongal and Makar Sankranti are harvest festivals celebrated with great enthusiasm. Women choose Lehenga Cholis in earthy tones, reflecting the bountiful harvest. These outfits often feature traditional motifs and designs.
7. Holi Hues
Holi, the Festival of Colors, is a day when people come together to play with vibrant hues. Lehenga Cholis in a riot of colors are the go-to choice for women who want to embrace the spirit of Holi. These outfits often incorporate playful designs and fabrics that are easy to move in.
8. Ganesh Chaturthi Grandeur
Ganesh Chaturthi is a time of grand processions and fervent devotion. Women dress in richly embroidered Lehenga Cholis, often in shades of green and gold to pay homage to Lord Ganesha, the elephant-headed god.
9. Karva Chauth Elegance
Karva Chauth is a festival celebrated by married women for the well-being and longevity of their husbands. Women adorn themselves in intricate Lehenga Cholis, often in deep reds and maroons, symbolizing love and commitment.
10. Onam Finery
Onam, a harvest festival celebrated in Kerala, is a time of feasting and merriment. Women opt for bright and vibrant Lehenga Cholis, often featuring intricate gold embroidery, reflecting the rich culture of Kerala.
The Lehenga Choli is an emblem of cultural diversity and tradition in India. It offers women the opportunity to express their individual style while embracing the spirit of each festival. The vivid colors, intricate designs, and timeless elegance of the Lehenga Choli make it an essential part of Indian festival celebrations.