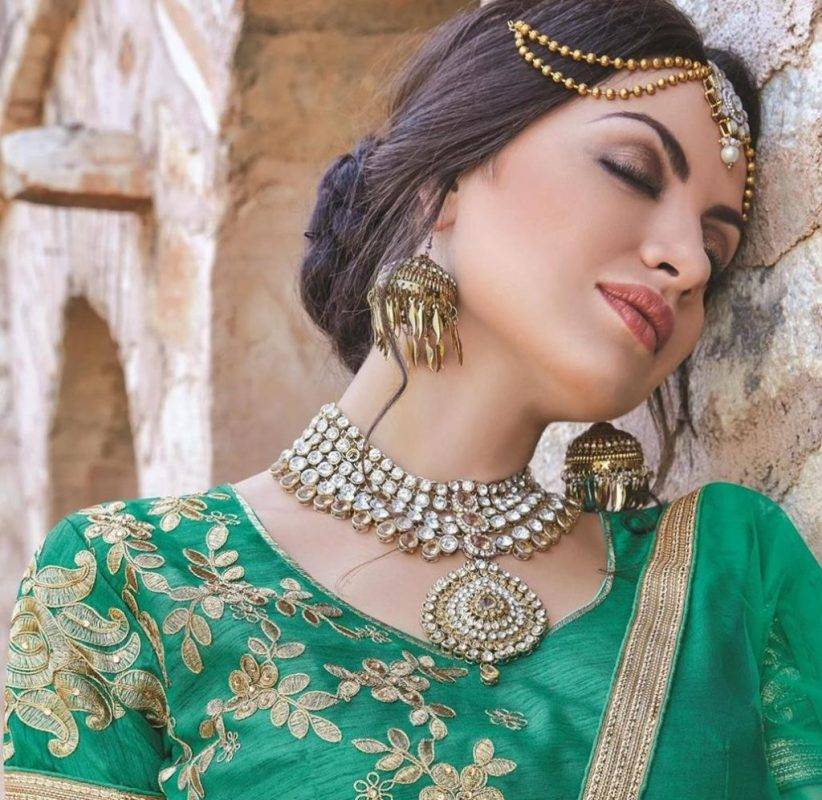 Worn for personal adornment, jewelry plays an important role in enhancing the beauty of every woman. As you know there are lots of options available for a bride to wear on her big day, but when it comes to our Indian brides or women, they mostly choose lehenga over other outfits.
Lehenga comes in different designs and colors and depending on that you should choose your jewelry. At the time of choosing your jewelry, be sure of what you want to buy. You will find various jewelry options with different prices and colors. So, to look good you should choose your jewelry wisely.
In this article, I will be sharing some contrasting jewelry options which will look flattering on your lehenga. But, before we start, let's have a look at some of the importance of jewelry.
Why should you wear contrasting jewelry?
As I said, jewelry adds beauty and if it's contrasting then it tends to increase the beauty more. I have attended many weddings and all I observed is that brides are in love with wearing contrasting jewelry. It will not only add color to your style statement but also makes you look gorgeous.
Maintaining a balance in your overall look is very important and contrasting jewelry will help you in this. For example – if you are wearing a vibrant-color heavy lehenga then you can go with simple light color jewelry. There are lots of things contrasting jewelry can do. Let's have a look-
Contrasting jewelry has the power to change the overall working of your outfit. Suppose that you are wearing an outfit that does not go with your personality, so by wearing contrasting jewelry you can still enhance your look.
You can create an entirely new look with the help of contrasting jewelry. You can wear Rajasthani jewelry on your simple lehenga and could create a Rajasthani bride look. Similarly, you can create many new looks.
Everyone wants to be the center of attraction, whether you are attending a party or a bride, girls want to grab attention which lehnga alone can't do. But! By wearing a contrasting outfit you can attract anyone's attention as it will beautify your look.
Here are some best options for you to wear–
As I mentioned earlier that lehenga comes in different designs and colors so I will be giving you various options of jewelry for all shades of lehenga-
Contrasting jewelry for pink lehenga-
Pink as you know is the favorite and in-demand color by many women. No matter what pink shade you are wearing you can enhance your look by choosing the right jewelry. Choose any heavy lengha, choose any beautiful embroidery but that does only 40% work in enhancing your look. Your ultimate showstopper is going to be the jewelry. You can wear polki and emeralds with a fuschia pink lehenga, with light pink lehenga you can wear a gold choker studded with rubies or kundans with a matching maang tikka, style yourself with a polki set on rani pink color lehenga, you can also wear green color set or a diamond set.
Contrasting jewelry for red lengha–
For decades, red has been a part of every occasion and always creates a surreal look. But, wearing a piece of contrasting jewelry with red color lehenga will add more beauty to your look. I have shortlisted some impressive jewelry options which will help you in finalizing your look. You can go for a diamond set or a polki set with your red lehenga. Apart from this, to level up your styling you can go for an all-golden look. If you have a golden design on your red lehenga go for a golden contrasting set, it will enhance your overall look. Sets with green beads also look flattering on the red lehenga and are very much in trend.
Contrasting jewelry for peach color lehenga-
As you know, that peach color lehenga is very trendy and girls simply love this attire. But, you all will agree that due to its very light color, it looks dull when compared to the bright color lehenga. So! If you are wearing a peach lehenga you need to complete your look by wearing some contrasting jewelry. You can wear a dark green polki set to upgrade your look. Jewelry with bright maroon color beads looks flattering over the peach color lehenga. As there are lots of colors available so while choosing the right jewelry you should try to pick bright color beads jewelry for peach color lehenga.
Contrasting jewelry for blue color lehenga
The concept of wearing a blue lehenga is not new. I have seen girls ditching the old red and pink lehenga for blue lehenga manier times and there is no problem. Change should be there and new concepts should replace the old ones. In my view, a blue lehenga is one of my personal favorites from the list due to its attractive color. Not just the color is bright but it looks great on all skin tones women. But! Choosing contrasting jewelry must be a tiring task for many. Well! After lots of keen observation, I have listed some best jewelry options. To enhance the beauty of your blue color lehenga you wear a diamond set. Silver and maroon beads polki set will also look fabulous. Not just this, you can also go for an oxidized set as a piece of complimentary jewelry for your blue color lehenga.
Contrasting jewelry for green color lehenga-
Diamonds are everyone's favorite and when you wear them on your green color lehenga, your look will enhance by 1000 times. Also, you can wear your green color lehenga with an all-gold set. Green and gold color looks great with each other. So! It will always be a smart idea to pair up with a golden set. Not only this, but a polki set with dark maroon beads will also look flattering with your green color lehenga. So! Every time you go shopping for your green color lehenga, choosing these contrasting jewelry sets will help you to enhance your look.
I hope reading this article, you will have an estimate of what complimentary jewelry you should wear with your lehenga. In the market, you will get various options in jewelry to select which could be a very tiring and confusing task at the time and this article will make your selection easier. I will suggest that you do proper market research before you go shopping. Better is to make a list of what you want and take a proper analysis of your budget. This will help you to buy things within your budget.
Thank You!