Top 10 New Bridal Kolka Design Ideas 2023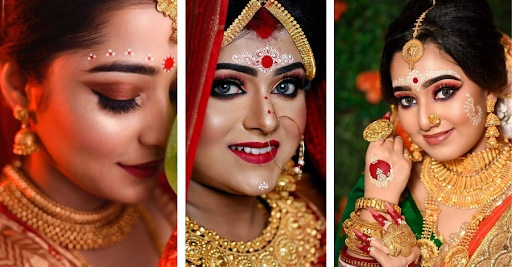 One of the quintessential Bengali bride aspects are the Chandan designs. Also known as kolka designs, they are a must-have in the mood board of every bengali bridal kolka. Anyone and everyone can identify a Bengali bridal kolka beauty with this design on her forehead. So it is no surprise that new bridal kolka design ideas are at the top of the list of makeup ideas. Hence, we have gathered the top 10 new bridal kolka design ideas 2023 for you. Add them to your makeup inspiration board for top-notch forehead beautification at your wedding. 
The Significance Of kolka design for bride
Every culture has one factor in a bride's outfit that identifies where she is from. A Marathi bride has her Nauvari sarees. Additionally, a Punjabi bride has her red chuda and kaleeras. Similarly, you can identify a bride from Kelera by her white and gold saree. So, what do the brides in their six yards of Banarasi get? A Bengali bride has her distinct kolka designs. The Misti vibe and elegance add to the aura of a traditional bride. But it is the white Chandan designs that are the most unique part of a Bengali bridal get-up.
Source: Sumi Bhattacharya, Gourav Makeover
But, did you know that the Chandan designs have a purpose besides beautification? The red and white art has a scientific significance as well. The white sandalwood paste has cooling properties. It is dialectically known as the chondon fota. The red in the design comes from the sindoor. Traditional sindoor has some portion of mercury in it. It helps keep the mind composure when applied to the forehead. As getting married comes with many new responsibilities, the sindoor helps manage stress. The Chandan paste is also supposed to help reduce strain and cool your forehead. The wedding day is one of the happiest but most stressful days for a bride. The red and white box of Chandan and sindoor helps the bride relax and enjoy her wedding day.
Additionally, the kolka design on a bride's forehead is said to symbolize divine power. In Indian culture, women are seen as a form of goddess Laxmi. During their wedding, to channel this feminine power of Parvati, Laxmi and other goddesses, kolka designs are made.
Best New Bridal Kolka Design Ideas 2023
Simple Bridal Kolka Design
A kolka design usually covers half the forehead and frames the eyebrows. This is why many brides prefer a simple kolka design that highlights their features but does not attract much attention. It is made up of a simple set of connected curved lines and dots. You can keep a red bindi as the highlight of the design. Additionally, you can highlight the white design with the help of a red dupatta.
Source: Sourav Paul, The Bengali Wedding Magazine
Styl Tip: Instead of a sindoor mix, you can apply Alta with the Chandan paste for a similar effect.
Leaf Bridal Kolka Design
If you are a bride who loves intricate designs, this one's for you. A leaf kolka design highlights the face without distraction. Additionally, it works to bring out your features and minimal makeup. We suggest working around a simple red bindi to avoid overdoing the design. Opt for someone with an experienced hand as this design requires precision and care.
Source: MyMandap, Sourav Paul
Minimalist Chandan Design
Not all makeup artists have the capability to create intricate kolka designs. So, when you have a great makeup artist whose weakness is forehead art, it is best to stick with minimal designs. These designs can be simple dots around the eyebrows and forehead. They can also include easy curves around the bindi for some extra fun.
Source: Tamajit Das, Lakme Salon
Styl Tip: To make minimal designs more interesting, make a design with both white and red. Additionally, you can use tinted Chandan paste.
Extravagant New Bridal Kolka Design
This one is for the dramatic brides out there. A mukut with this kolka design will make you stand out as the glowing bride. We suggest having a minimal makeup look with this design. Let the traditional artistry shine! The key to this design is having a direction for all the details. They must all be in the direction of a concave lens, framing your eyebrows and extending to the temples.
Source: MyMandap, Banashree Dhar
Single Motif Design
This new bridal kolka design is perfect for low-key family-only weddings. This design simply surrounds your red bindi, as a central motif. This design is extremely popular in the eastern regions of India, particularly Assam, West Bengal, Tripura, Bihar and Orissa.
Source: Gourav Makeover, Sourav Paul
Dots and Lines for Bridal Kolka Design
Classics are such for a reason. They never go out of style and will never look old. A simple kolka design with dots and lines will never fail you as a Bengali bride. This is perfect if your makeup artist is unskilled in the art of kolka. Additionally, you can use this design if you have a bold makeup look.
Source: MyMandap, Komal Chakraborty
Bold Kolka Design
Bridal kolka design can be extremely bold to highlight the features of the bride. This is different from the rest as you cannot wear it to any other occasion. No one will mistake who the bride is with this design. Make sure you have a good balance of red and white in this design to avoid repetition.
Source: Anik Ghosh, MyMandap
Regal Red and White Design
Traditionally, all bridal kolka designs have a mix of red and white in them for the bride. In Bengali culture, both colours are considered pure and a symbol of goodness. So make sure that your bridal kolka has both red and white in it. The best part about this design is that you can freehand as much as you want. Just follow the natural lines of your face and you are good to go.
Source: MyMandap, MyMandap
Deconstructed Chandan Design
A new bridal kolka design for 2023 is the deconstructed design. In this, you have one statement motif in the center of your forehead. This goes around your red bindi. The area around your eyebrows is left empty. This is apart from the outer edge of your brows, near the temple. There a small design of dots and lines is again made to lift your eyes and overall face. The design does not extend beyond your temples. You can add a small design on your chin but your cheeks are gloriously empty. This makes sure that everything is balanced.
Source: Sourav Paul, Sourav Paul
Forehead and Cheek New Bridal Kolka Design
This is the grandest of all bridal kolka designs. If you are a little shy of bold designs on your face, this one is probably not for you. In this, the design covers your forehead and extends down to your cheeks. In a variation of the same, the kolka has two parts. One part covers your forehead and stops at your eyebrows. In another part, there is a simple design on your cheeks. See which suits your face and style more for the wedding.
Source: Sourav Paul, Reema Das
We hope that this article helped you get some inspiration for the best new bridal kolka design ideas in 2023. We hope you tell us if you utilize our style secrets. For any assistance regarding wedding or personal styling, contact us at Styl-Inc and our team of expert stylists will get in touch with you.
Stay tuned to Styl-Inc blogs for more wedding styling tips and tricks.
Until next time.
Keepin' it Styl'ish
Signing off,
Shravani Priya