How Do You Start a Small Jewelry Business?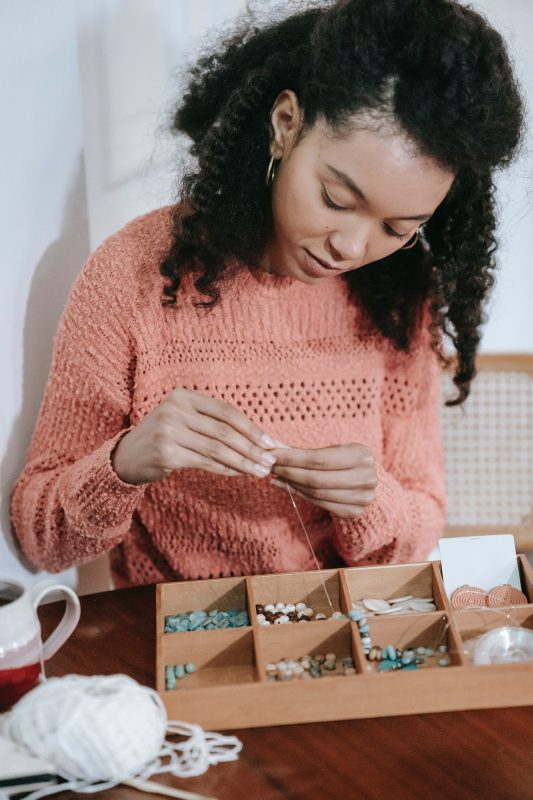 Starting a small jewelry business can be stressful, but the rewards are worth the effort. Various choices are available to you.
You can either make jewelry from scratch, collaborate with a factory to mass-produce your designs or sell jewelry that has already been made. The jewelry market may seem chaotic, but it's possible to succeed with a well-thought-out business strategy, a keen understanding of your target market, and a knack for establishing your product's identity in the marketplace.
The Concrete Strategy
If you're just getting started in the jewelry business, it's a good idea to draft a business plan to use as a road map for your future endeavors. A business plan is an extensive description of an organization's plans and objectives.
In addition, a schedule for accomplishing these goals should be included. To get you started, plenty of samples and templates of jewelry-specific small business plans are available online. After that, make a note of the following data for later use:
· Long-term objectives
· What kinds of o jewelry do you intend to sell?
· Is there anyone you think might be interested in purchasing your jewelry?
· Plan to provide excellent service to your customers.
· What are your plans for sourcing the necessary personnel, materials, and equipment to create the jewelry?
· How do people buy from your new jewelry business?
· Having a firm grasp on the image, you wish to project for your startup is crucial. So consider branding at the outset.
· What's the immediate plan for promoting your small jewelry business?
Deciding On a Name
It's crucial that the name you choose for your jewelry business stands out and is memorable among your target demographic. Consider using a name that alludes to standard industry terms like "gold" or "beads," your production method like "crafts" or "creations," or your style to help customers better understand what you're offering.
As an added precaution, check to see if the name you've chosen for your company is in use. You can find out if there are any other companies with the same name by doing a quick Google search. It is common practice for famous jewelers to incorporate their names into the titles of their businesses.
Register Your New Business
To operate legally, you must first acquire a license from the appropriate authorities. Businesses that want to be taken seriously should register in multiple countries and states within the United States. As a first step, you should contact the local Chamber of Commerce or Small Business Development Center to determine the necessary permits and licenses. Once you have registered your business, you must learn what documents you need to keep for future reference.
What's Your Financial Model?
Determine the company's viability by calculating its expenses and comparing them to the expected revenue. Overhead expenses like equipment, utilities, marketing, and labor must be factored into the price estimates.
If your projected costs exceed your expected profits, you may need to revise your business strategy. You should also consider methods to increase your income while decreasing your expenses. For example, if you want to use expensive gemstones, you'll need to charge a much higher price for your final products if you want to profit. This may change the ideal client profile you're going for.
DIY jewelry is an excellent option if you have a knack for crafting. Handmade jewelry can be unique. It's possible to make jewelry through various techniques, including beadwork, metalwork, fabric or string arts, and gemstone setting. Making jewelry could be the beginning of a very successful business for you. These beginner-friendly online classes are ideal if you've never tried your hand at jewelry making before.
Whether an experienced artisan or just starting, you can learn new skills by consulting resources like YouTube tutorials, books, and websites.
Instead of worrying about production, you can focus on creating beautiful jewelry pieces. If you don't want to make each piece of jewelry by hand, you can have it made for you by a third party. Instead, after drawing up precise sketches or 3D models, a team or outside manufacturer can be contracted to produce the final product. The majority of manufacturers are okay with sending products directly to your customers.
If you don't have a sizable budget, you can make your designs using free graphic editing software. In addition, you may want to look into jewelry-specific design tools like Rhinojewel and JewelCAD if you have an eye for creating beautiful jewelry.
It's possible that a local manufacturer can offer more convenient shipping options and more easily accessible communication, while an overseas manufacturer might be able to offer lower prices or more flexible production options.
Pre-made jewelry could help you reach more customers. There is also the option of purchasing ready-made jewelry from a distributor like Alibaba. In addition, you can increase your earnings by reselling the components separately. This ready-made jewelry can be used in addition to your designs or as your sole stock.
Usually, the more jewelry you buy at wholesale, the cheaper each piece becomes. Therefore, if you can wait to place a large order, you can increase your profit on each piece of jewelry you sell.
Identify New Opportunities to Beat the Competition
You can give your jewelry product an edge over the competition in many ways. You can target a specific customer base and market your jewelry for various uses (weddings, prom, themed parties, etc.). Options for beginning a jewelry business are practically limitless. However, you still need to find the best partner for jewelry-making supplies before proceeding to the manufacturing phase.
Fine Jewelry
Fine jewelry can range in price from a hundred dollars to several thousand dollars, depending on factors such as the materials used, the size, the origin, and the brand's reputation (or even more).
Gemstone Jewelry
Insight into consumer demand for handmade jewelry and other goods can be gained by observing the success of online marketplaces such as Etsy. Even though handmade jewelry cannot be mass-produced, it does provide a viable option for those who wish to produce and sell unique or customized products.
If you're a jewelry designer who wants to build a following on Etsy, you'll need to be prepared to play the jewelry designer and marketer. Scalability issues arise when jewelry is made to order or when individual pieces are handcrafted.
Fashion Jewelry
Often referred to as "fashion jewelry," costume jewelry is made to be worn frequently. In contrast to fine jewelry, costume jewelry is typically crafted from inexpensive imitation materials like plastic, wood, metal, and even fake diamonds.
One costume jewelry should cost anywhere from $1 to $100. To attract a large customer base with your costume jewelry sale, you must find a way to keep your prices low.
Luxury Jewelry
Rubies, diamonds, platinum, silver, and gold are precious metals and gemstones used to craft fine jewelry, typically associated with an abundant way of life. These jewelry pieces are exquisite, trendy, and saved for extraordinary occasions.