5 Easy way to style up your Cotton Salwar Kameez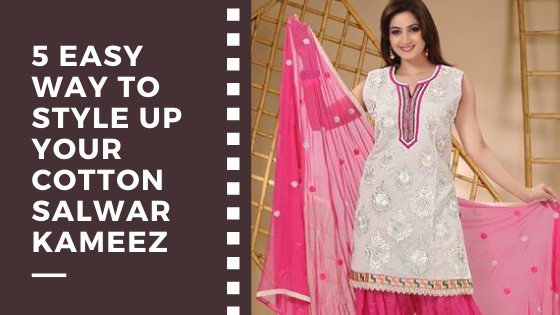 Cotton salwar kameez are one of the most popular and attractive types of salwar kameez. It has many characteristics. It is light in weight, durable, long lasting, breathable, sweat proof and a soft material. The material is flexible and can be customised as per one's choice and measurements. The outfit is available in different varieties and patterns. They are preferred for occasions, weddings, parties and other functions.
There are many different ways in which you can style your cotton salwar kameez. This soft fabric protects you from moisture and provides you a rich and classy look. 
1. Choose a Perfect Design:
Choose the design of your outfit properly. Pick them according to the type of function or occasion. There are so many different types of embroidery designs and art that an outfit has and you can choose the perfect one. Some of the common embroidery works done on cotton clothes are aari embroidery that is done using a long needle, zardosi embroidery that is done using metallic bound threads, phulkari embroidery that is done using colored threads to make flowers on a cloth and many more.
If you don't like heavy work and designs then you can opt for prints like digital prints, flower prints and geometrical prints. Thus you have a wide option to choose a perfect design.
2. Get your Dress stitched in Different Patterns:

You can get your dress stitched in different patterns, choose them according to your body time. Heavy and elongated patterns look awesome on tall and slim girls having rectangular shaped bodies. Flared salwar and short kurtis look alluring on bubbly and medium heighted girls. You can choose patiala suits patterns that have a flared and pleated salwar paired with short kurti and a beautiful dupatta or else you can also opt for a cotton anarkali dress. 
Checkout here Kurti Styling Tips for Short Height Women
Straight cut suits paired with palazzo pants or narrow pants are also a nice option. Get an alluring neck design and some unique sleeves that look appropriate with your attire and get a graceful look. You can also find some Printed Cotton Dress Material to stitch a salwar kameez.
3. Pick a Stunning Print and Color:
The color you choose should look perfect on your skin tone. Intricate floral and motif prints are always a better option if you are confused and can't choose a perfect print. Pick the color that suits your skin tone. You can prefer your favorite color also as it is your best choice. Pastel and some trending colors are also a better choice.

A ravishing black outfit or a dark royal blue color can also give you a thousand complements. If you go for prints then for a slimmer look choose motifs or flowers and for those who like to flaunt themselves should go for fewer prints and dark colors.
4. Get a Perfect Fit:
For a classy and rich look you have to get a perfect fitting. The tunic should have a proper neck and shoulder. The shoulder has to be perfectly stitched and does not slip-off eventually. Length of sleeves must be proper and it can be in any of the trending or popular patterns. The most popular sleeve pattern nowadays are long sleeves that can be flared at wrist or parallel from tip to end.
The length and size of your salwar matters the most. Customise the salwar in proper length and fitting. If you are selecting a pant pattern then your salwar should not exceed your ankle, it is not only applicable for pant style salwar but every salwar should be till the ankle except churidar salwar as it has several wrinkles on the ankle and need to be long.

5. Match Some Accessories:
Pair some traditional and beautiful accessories with your attire and look glamorous. You can pair:
Rings: This small accessory can add very much glamour to your attire. Pair a bold ring studded with diamonds and stone and get a ravishing appeal.
Necklace: They are available in different designs and lengths. There are short necklaces, long necklaces and even chokers and any one of them can be paired with a salwar suit.
Bangles: This accessory is one of the most popular and alluring. Wear matching bangles with your attire and get a proper traditional look.
Earrings: They can be called a compulsory accessory for girls. No look is completed without earrings. Wear bold and attractive earrings and spread your charm at the occasion. 
Footwear: Don't forget a matching and stunning footwear, it will complete your overall look so choose it wisely. You can wear heels or flat sandals according to the type of pattern you choose.
Stay Connect With US & Keep sharing your article with us, I accept all fashion related content, Checkout here our write for us fashion guidelines.