9 Handpicked Classy Silver Rakhi Gift Combos To Elevate Your Brother's Personality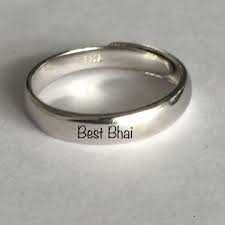 Raksha Bandhan is the festival that celebrates the eternal bond between brother & sister and offers the time to express love, affection, and gratitude. Besides exchanging heartfelt gifts, this auspicious occasion also allows us to show brotherly love towards siblings and elevate their personalities.
If you are searching for a gift combo that includes elegance and signifies deep brotherly love, then you can opt for the luxurious yet classy Rakhi gift combo.
Silver is known for its purity and prosperity, adding sophistication and significance to any present and even enhancing your brother's charming personality. So, explore a range of luxurious silver rakhi gift combo ideas that are sure to capture your brother's attention and make this Raksha Bandhan an unforgettable experience.
1] Silver Rakhi And Wallet Combo
Gifting your brother a silver rakhi with a premium leather wallet can perfectly showcase your brother's love. The silver rakhi can be a precious keepsake, while the wallet adds a practical touch to your gift combo. Consider choosing a sleek, silver rakhi with intricate designs, and pair it with a high-quality leather wallet that complements your brother's style.
2] Silver Rakhi And Watch Combo
Silver rakhi and a stylish watch are a perfect combination that you can send to your overseas brother. You can choose the best luxurious silver rakhi with a sophisticated watch to send rakhi to Canada that suits your brother's personality and combine both to adore with silver embellishments. This gift combo perfectly blends tradition with functionality and cherishes a brotherly love.
3] Silver Rakhi And Pen Set Combo
A silver rakhi paired with an exquisite pen set is an ideal choice for brothers who appreciate the art of writing. You can choose a silver rakhi with a minimalist design or personalise it by engraving his name or initial. Pair it with a premium pen set featuring a silver finish or accents to complement your rakhi gift combo showcasing your affection and encouraging your brother's creativity.
4] Silver Rakhi And Cufflinks Combo
Elevate your brother's personality with a silver rakhi and cufflinks combo while providing him with a feeling of brotherly love. Select an elegant silver rakhi with intricate details, and pair it with a set of stylish cufflinks that resonate with his style and fashion. You can also personalise your cufflinks with his initials or a meaningful symbol to add a touch of sophistication to his formal attire.
5] Silver Rakhi And Grooming Kit
Elevate your brother's personality by pampering him with a luxurious grooming kit along with a silver rakhi. You can opt for a grooming kit that includes high-quality grooming essentials like a razor, shaving brush, and other grooming products. Pair it with a silver rakhi adorned with masculine motifs or engravings, reflecting your brother's manly personality.
6] Silver Rakhi And Scented Candle Combo
Opt for the best silver rakhi and scented candle combo and create a serene and soothing ambience for your brother. Choose a beautifully designed silver rakhi and pair it with a premium scent of fragrances that reflects his preferences and style of decorating his space. You can opt for the fragrances such as woody, citrus, and aromatic scents that will create a relaxing atmosphere at home.
7] Silver Rakhi And Personalised Gift Combo
On this Raksha Bandhan, send your brother an elegant silver rakhi with a personalised gift to show your love and gratitude. You can choose gifts such as a personalised keychain, a personalised photo frame with a memorable photo, or a health and wellness gift hamper to pair with your rakhi. These gift combos constantly remind him about your love and strong connection.
8] Silver Rakhi Fitness Tracker Combo
If your brother lives overseas, then present him with a silver rakhi pairing it with a fitness tracker to promote his health consciousness. You can find a reliable site that offers a range of classic silver rakhi designs and gifts and offers facilities for rakhi delivery in Toronto, including other counties, for safe and timely delivery. You can choose silver rakhi with a modern design and pair it with a cutting-edge fitness tracker that monitors your brother's activity levels, heart rate, and slipping partner.
9] Silver Rakhi And Personalised Wooden Plaque
Surprise your stylish brother by sending a classic silver rakhi with a personalized wooden plaque that resembles his stylish personality. You can engrave your brother's photos on it, including his your wishes or quotes like "the brother with an awesome personality". Pairing it with luxurious silver rakhi will add a touch of elegance, while silver rakhi will also elevate his overall look during the festive season showing your brotherly love.
Bottom Line
Raksha Bandhan is a festival that allows you to express your love and appreciation for your siblings with a range of rakhi designs and gift combos that complement their style. Choosing a luxurious silver rakhi with thoughtful gifts will enable you to convey your brotherly love by resonating with their style. Presenting a gift combo mentioned above will elevate his personality, even if he is a mile apart.
This Rakha Bandhan surprises your brother with an evergreen silver rakhi gift combo for priceless happiness. Take time to choose a gift that reflects his personality, interests, and passion and cherishes moments that he will treasure for a lifetime.
Stay Connect with Dazzling Point & You can also write for us