PERFECT JEWELRY FOR AFTER MARRIAGE OCCASIONS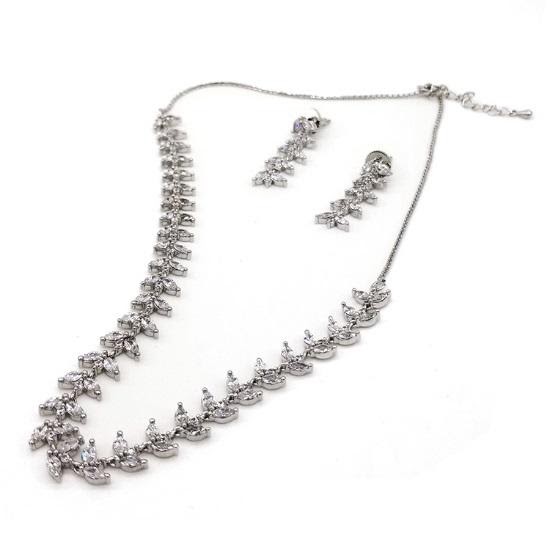 When you are a newlywed bride, you are the talk of whole family. Everybody starts thinking about you and suddenly you become the center of attraction. Hence, whatever you do and wear is being watched by people around you. Also, there can be chances when you have to go out on an unplanned date with husband or even with in-laws. Therefore, you have to always look your best. For that there is nothing which cannot beat jewelry. You can wear expensive clothes and heels however, if there is no jewelry your whole look will fade down. Whether you are wearing a gown or a turtle neck solid top; a jewelry piece can amp up your entire look. Let us have a look below at what pieces can work well for you.
A Cocktail Necklace Set: Every newlywed bride has to have a necklace set to wear with gowns or any traditional attire. However, this does not have to be heavy. Keep light necklaces having zirconia detailing and some pearl drop or any cubic zirconia drop in it to add elegance to your outfit. Try looking for a set which has light and small earrings with it because you are already having a neckpiece to wear around our neckline and you do not want to look fancy and overdo it.
Statement Earrings: There can be days when you are not feeling like wearing a necklace or when you have worn an off-shoulder dress, in that case we have earrings for you. You can never go wrong by wearing just earrings with your outfit. And when it comes to this, always look for any statement earrings like chandelier or danglers because these can add a sheer of glam to your whole look and if possible do half up-do or a bun hairstyle along with it.
Bangles and Bracelet: Last but not the least your jewelry collection is not complete if you do not have bangles or bracelets in your treasure box. Imagine yourself wearing sleeveless or strapless and are arms are bare, it looks as if something is missing. Yes, there has to be a statement piece like watch or bracelet. Also, what about a bracelet which looks like bangles? It is covering your forearm and heavy at the same time.
Interestingly, you do not have to wander around in the markets for searching for these jewelry pieces, there is nothing in today`s world which could not be found online. All you have to do is open your web browser and search for the same. Also, you get exciting offers and deals on your purchase which can make you steal a deal. You can also check jewelry for women in Mississauga, there is an amazing collection of jewelry to match your every outfit. 
Stay Connect With US & Keep sharing your article with us, I accept all fashion related content, Checkout here our write for us fashion guidelines.