Everything You Need to Know about the Viral Cut-Out Dress Trend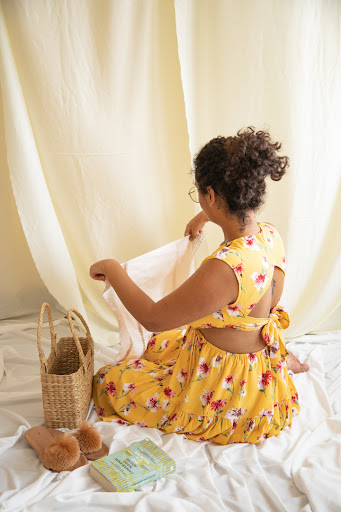 Hello there, fashion enthusiasts! Are you ready to turn up the heat and embrace a trend that's taking the fashion world by storm? Say hello to the sensational cut-out dress trend! These alluring garments have become a statement piece, injecting a touch of allure and modernity into our outfits. In this blog post, we'll delve into the world of cut-out dresses, exploring their appeal, finding the perfect fit for your body type, styling tips, and even incorporating them into your wardrobe. So, let's dive in and discover the secrets behind this viral fashion phenomenon!
The Appeal of Cut-Out Dresses
Cut-out dresses have an undeniable allure that captures the essence of confidence and sophistication. By strategically revealing hints of skin, they strike the perfect balance between sexy and elegant. Whether it's a tasteful keyhole cut-out or a daring side slit, these designs accentuate your curves and add a playful twist to your ensemble. The best part? Cut-out dresses come in a myriad of styles, from casual sundresses to red carpet-worthy gowns, ensuring there's something for every occasion and personal taste.
Why did Cut-Out Dresses Become a Trend?
The rise of the cut-out dress trend can be attributed to its ability to captivate and empower women, offering a fresh take on fashion that celebrates individuality and self-expression. Designers recognized the demand for garments that exude confidence and playfulness while still maintaining a sense of elegance. They began incorporating strategic cut-outs into their designs, giving birth to a trend that quickly took the fashion world by storm.
Designers and Cut-Out Dresses
Top fashion designers have embraced the cut-out trend, infusing their collections with innovative and striking designs. Let's take a look at some notable designers who have skillfully incorporated cut-outs into their creations, pushing the boundaries of fashion:
1. Alexander Wang: Known for his edgy and contemporary aesthetic, Alexander Wang has successfully incorporated cut-outs into his collections. His designs often feature unexpected placements of cut-outs, such as at the waist or back, creating an alluring and provocative effect.
2. Stella McCartney: With a commitment to sustainable fashion, Stella McCartney has beautifully integrated cut-outs into her designs. She utilizes strategic cut-outs to add a sense of femininity and sensuality to her garments, while maintaining her signature modern and minimalist style.
3. Christopher Esber: This Australian designer has made a name for himself with his unique take on cut-out dresses. Esber's designs often feature intricate cut-out patterns, transforming simple silhouettes into works of art. His innovative use of cut-outs adds a contemporary and architectural element to his collections.
4. Brandon Maxwell: Known for his elegant and glamorous designs, Brandon Maxwell has incorporated cut-outs in a way that accentuates the female form. His designs often feature strategic cut-outs at the waist or neckline, creating a visually captivating and flattering effect.
5. Dion Lee: This Australian designer is celebrated for his experimentation with cut-outs. He combines structural elements with strategically placed cut-outs, resulting in garments that are both modern and sophisticated. Lee's designs often feature geometric cut-outs, adding a futuristic touch to his collections.
By showcasing their expertise and creativity, these designers have elevated the cut-out dress trend, pushing the boundaries of what is possible within this fashion phenomenon. Their unique interpretations and thoughtful placements of cut-outs have solidified this trend as a staple in contemporary fashion.
Finding the Perfect Cut-Out Dress for Your Body Type
To truly rock a cut-out dress, it's essential to find the perfect fit for your body type. Embrace your curves and highlight your best features with a dress that flatters your unique shape. If you have an hourglass figure, opt for styles that cinch at the waist to accentuate your enviable curves. Pear-shaped beauties can go for cut-outs around the shoulders or neckline to draw attention upward. Athletic figures can create the illusion of curves with dresses featuring strategically placed cut-outs. Remember, confidence is key, and owning your body type will make you shine in any cut-out dress you choose!
Incorporating Cut-Out Dresses into Your Wardrobe
Cut-out dresses are not just reserved for special occasions; they can be effortlessly incorporated into your everyday wardrobe too! For a casual daytime look, style a flowing maxi cut-out dress with a denim jacket and sandals for a bohemian-inspired vibe. Looking to elevate your office attire? Layer a tailored blazer over a knee-length cut-out dress and pair it with classic pumps. Transition to evening by swapping the blazer for a sleek leather jacket and adding some statement heels. The possibilities are endless, and by experimenting with different combinations, you'll find new and exciting ways to wear cut-out dresses for any occasion.
There you have it! Cut-out dresses have become a must-have trend, infusing allure and modernity into our outfits. By choosing the right fit for your body type, experimenting with styling, and incorporating cut-out dresses into your everyday wardrobe, you can embrace this viral fashion sensation with confidence and flair.
Now, as a bonus, let's introduce you to Binks, your online tailor for perfect fitting cut-out dresses. With their expert craftsmanship and attention to detail, they'll ensure your cut-out dress fits you like a dream. Say goodbye to ill-fitting garments and hello to personalised perfection. Visit Binks today and get ready to dazzle at your next event!
So, go ahead and embrace the cut-out dress trend and let your unique style shine through. Remember, confidence is the key to making any outfit truly remarkable. Happy styling!