Benefits of wearing a silk and cotton saree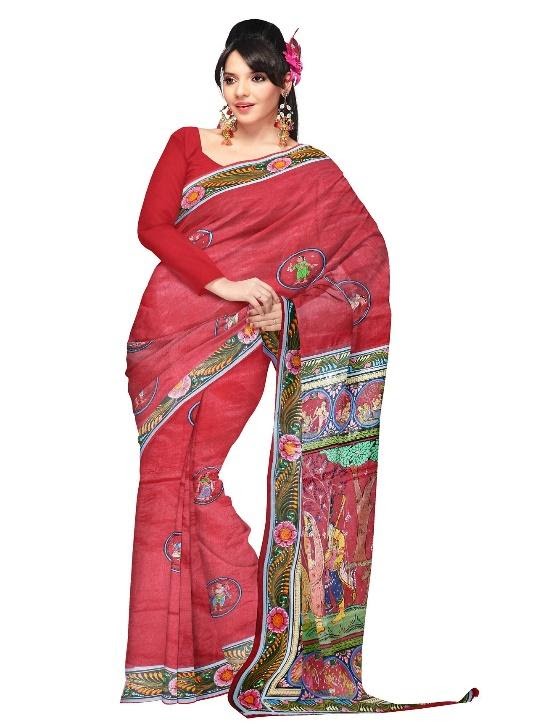 For more than hundreds of years, sarees have come to epitomize the Indian women. No other piece of clothing is as easy to put on and still provides as much grace as a saree does. When you talk about sarees, the materials that come into mind are silk and cotton. There is no end to comfort that these sarees offer to the wearer. Benefits of wearing a silk and cotton saree.
Keeping that fact in mind, we are going to discuss some of the key benefits that you can expect when you wear pure silk and cotton south Indian sarees.
1. Comfort
As mentioned before, the comfort one can derive from wearing cotton and silk sarees is unparalleled. This becomes useful especially in the south Indian part of the country considering the high temperatures that people have to deal with throughout the year. The lightweight nature of the fabric allows the cool breeze to travel through the saree and into the skin, giving the wearer the comfort that she deserves.
2. Year-round Usability
Another important factor that is pretty impressive about cotton and silk sarees is that you can wear it any time of the year. You can rest assured that the saree will look ravishing every time you wear it. The fabric that is used to make the saree is naturally available, meaning there is no artificialness that one can feel while wearing a saree made using other materials.
3. Ease of Wearing
As mentioned before, the fabrics used are light in weight, so you are not going to spend a lot of o time and energy in wearing it. This is another reason why cotton and silk sarees are so highly sought-after by all the sundries across the country.
4. Variety
One thing that you can be sure of is that you are never going to run out of options. There are hundreds of colors, motifs, and designs available to look at and choose from. You might even feel guilty about buying one and leaving other sarees. Since these sarees are much more affordable compared to sarees made from other materials, you can understand the urge you are likely to feel about acquiring these sarees.
5. Simplicity
One of the best things about these sarees is their simplicity. You should not make the mistake of thinking that just because they are simple, they will not look good on you. People who make these sarees make sure that even the simple design can provide as much workmanship as possible. You will be able to find a variety of colors, designs, and motifs on these sarees.

6. Skin-friendly
Another Benefits of wearing a silk and cotton saree is that they are totally harmless for the skin. This why many dermatologists suggest to women to wear cotton and silk when they have some kind of skin-related issue. Cotton is widely considered as an antidote to various skin diseases. It also keeps away the germs that cause these skin problems.
7. Well-suited for the Climate
In the southern part of the country, where the weather can become extremely hot and unforgiving throughout the year. Summers can be excruciatingly sultry, while winters can be equally chilly. When you wear a cotton saree, you ensure that the saree provides thermoregulation, which means during the summer season the fabric will cool and in winter it feels warm. The air passes through the fabric with ease, making you feel comfortable.
8. Durable
One thing you need to understand about these sarees is that they can last for a few years if you maintain them properly. What is even better is that, as the saree ages, it becomes more comfortable. The fabric used is durable but requires proper maintenance. So, do your research on how to maintain cotton and silk saree for a long period.
9. Inexpensive
When you plan on you buying a saree that is comfortable yet graceful, you might think that you have to a hefty price for buying one. It is nothing more than a myth. Cotton and silk sarees are extremely affordable and you can have as many as you want without breaking your account. So, next time when you go shopping, buy as many sarees as you want.

A cotton and silk saree not only looks elegant but also provides comfort to the wearer. The fabric used is perfect for all seasons, means you can wear them whenever you want. The fabric is highly durable but requires proper maintenance. So, if you are still confused about whether to buy a silk and cotton saree or not, read the mentioned benefits and get rid of any confusion.
Stay Connect With US & Keep sharing your article with us, I accept all fashion related content, Checkout here our write for us fashion guidelines.