7 Casual Shoe Brands in India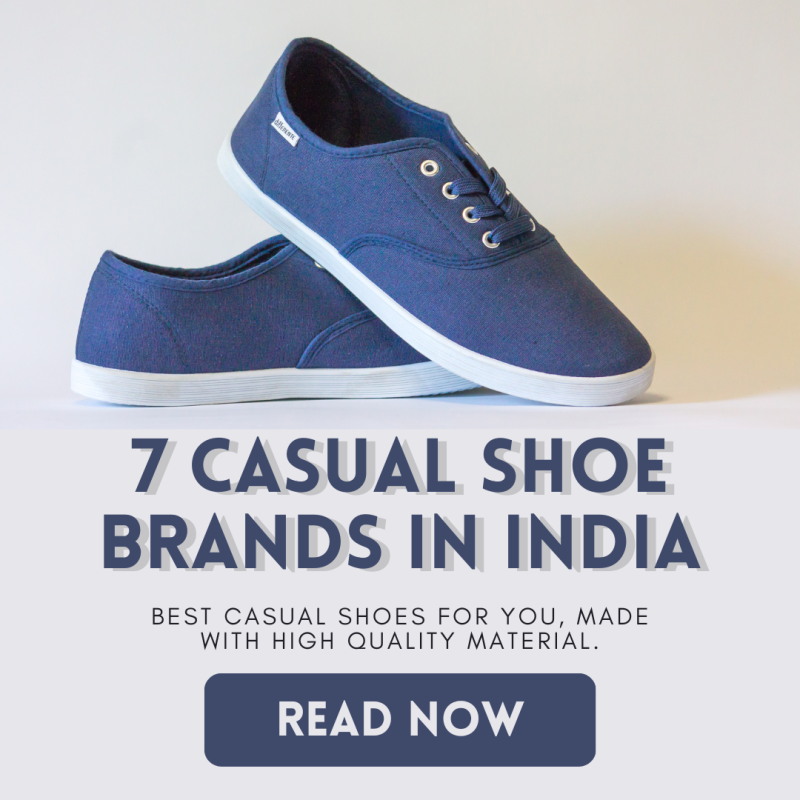 When it comes to wearing comfortable footwear, casual shoes are the best option. Whether it is just an outing with friends, a lunch date, or a weekend getaway, casual shoes are the best for every occasion. One should always invest in a pair of shoes that are comfortable because you will be wearing them more often. Additionally, if you have a habit of walking, comfortable shoes are a must.
Below is a list of different types of casual shoes that you can go for while making an investment
Sneakers are perhaps the most famous type of casual shoes. They are widely popular due to their sporty design, cushioned soles, and comfortable fit. Sneakers are available in various materials, colors, and patterns. You can even wear them with ankle pants too.
Loafers are a versatile and timeless option when it comes to casual footwear. They have low heels and an absence of laces makes them easier to wear. They are available in various styles, allowing individuals to choose based on their preferences.
This is one type of category that is becoming widely popular for casual footwear, recognized by its non-marking rubber soles and lace system.
Below is a list 7 casual shoe brands in India-
Sparx is a huge collection of casual shoes. In fact, the brand became famous due to the variety it offers. The brand is owned by Relaxo which is an Indian footwear brand founded in 1976. Sparx offers tough and stylish shoes that can go with several outfits easily.
The sneaker section of the brand features trendy and casual designs. The shoes are available in a variety of colors and designs that it is almost impossible to choose one. Thanks to their bold patterns, one makes a stylish proclamation every time he takes a stride in Sparx shoes.
Everyone is aware of the fact that Nike is a major sportswear and equipment manufacturer. It has a range of casual shoes that look and feel amazing. The casual shoes section of the brand includes sneakers and comfortable non-sports shoes that can be worn daily.
The shoes offered by Nike are good for running as well so if you are looking for a good brand that offers casual and sports shoes, it is the one for you.
When we talk about comfortable and stylish footwear, Adidas is one brand that definitely comes to mind. Founded in 1949, Adidas has some great options that are flexible and good for daily use. With Adidas, good and long-lasting quality is always guaranteed.
If you are someone who is a fitness enthusiast and doesn't know what brand is a good one to invest in, Adidas is a great choice for you.
Crocs shoes are uniquely designed using Croslite technology that gives each pair of shoes a soft and comfortable build. Crocs is an ideal brand for casual wear and recreational purposes.
The brand does not just offer casual shoes but also stylish and trendy sandals for women that are yet again comfortable and lightweight. These shoes are durable which makes them a perfect choice for daily wear.
Next on the list is Puma which is a German company known for its athletic and casual shoes. It offers a line of casual shoes for both men and women which are both affordable and fashionable. You can also search for coupons that make your purchase more affordable. You can easily find unisex shoes which are popular among all age groups.
The shoes offered by the brand feature a strong and durable rubber sole. They also provide excellent grip so even if you are more of a trekking kind of person, they are a perfect choice for you.
The next brand on the list is Skechers which is yet again one of the top casual shoe brands in the world. In fact, it is the best brand if you are looking for something that is a combination of comfort and fashion.
For everyday use, you can go for track shoes and even pair them up with any outfit of your choice.
Bata is one of the largest retailers and leading manufacturers of footwear in India. Bata offers a casual and comfortable line of sneakers at a very affordable price.
Bata sneakers provide a casual look that goes with ample outfits without making any effort. If you are looking for something designed to provide maximum comfort then you should go for Bata.