Enhance Your Beauty with Fashion Bracelets & Earrings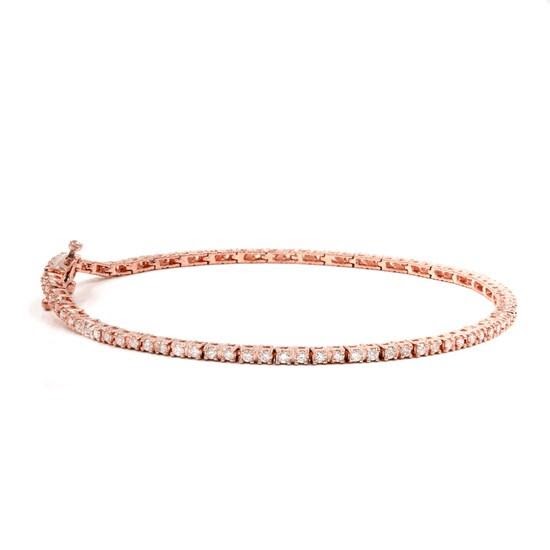 Women love to experiment with different jewelry designs and improve their looks. They choose to do so as a way of expressing their mood. The change may occur as a result of a dress code at a function, or simply because a woman changes her outfit.
Investing in a whole wardrobe seems rather complex. A new dress for each and every day is going to empty your wallet quicker than what you would like. However, choosing stunning fashion jewelry is something even your bank account would love.
Accessorizing is a superb way of expressing oneself. While dresses give you an avenue of exhibiting your style and preferences, adding accessories take it to the next level. They help us living our moods and emotions. You are happy, you will throw on something stunning and vibrant. When you feel calm, you will surely choose something minimalist.
Style and beauty must be the first reason why you should have more diamonds. Discover diamond fashion jewelry styles that can drive your next fine jewelry purchase. Diamonds are undeniably unique and beautiful. They can make out simple outfit look so gorgeous.
If you think diamonds are just for engagements, weddings and anniversaries, then it is time to think again. Fashion diamond jewelry is a superb choice, and diamonds come in a variety of shapes, sizes, cuts and colors.
Diamonds have a particular brilliance that outshines the rest. If you want to look decent and stylish, you need to add some jewels to your outfit. The beauty of these white crystals can help you achieve that desired stunning look instantly.
Make a Style Statement with Diamond Fashion Jewelry
It wasn't all that long ago that diamonds were generally either solitaires in a setting or accents to other gemstones. But designers have learned to improve the beauty of larger diamonds in different mounting choices and a variety of metals, including silver, platinum and all colors of gold.
You can make a fashion statement with pure diamonds by taking advantage of colors other than white, either alone or mixing. A ring, earring, necklace or bracelet that combines black and white diamonds creates a focal point.
Yellow colored diamonds, alone or paired with white, are both totally on trend and effortlessly classic. A mixture of brown and white color diamonds in a rose gold setting is warm and classic.
Diamond is popular for its extreme durability. Since it is the hardest mineral known to humankind, it is impossible to break it. Nothing can harm or damage this naturally occurring mineral. Only a diamond can cut a diamond.
This unique feature makes the diamond to stay with you forever. As diamond represents eternal love, it would make a perfect gift for someone you genuinely love. There are many ways to make diamond jewelry the perfect gift for any occasion.
With earrings at the core of nearly every woman's jewelry collection, classic diamond hoops make a beautiful selection. Other classics to consider include diamond studs, the tennis bracelet and beautiful diamond cuffs.
Bracelets come in a variety of styles. No diamond jewellery collection is complete without a beautiful tennis bracelet. This is a superior bracelet with diamonds placed close to each other across the length.
The diamonds can be positioned on the bracelet in different settings. By working with different settings, precious metals and pure stones, you will find diamond tennis bracelets in different styles.
Natural Diamonds are Rare
When looking for fashion Diamond jewelry, open your eyes to the rainbow of colors accessible. Natural color diamonds are rare and come with a high price tag. Color-enhanced diamonds get their colors from a combination of high pressure and high temperature that replicates the conditions that cause diamonds to change color. The treatment is permanent, and the prices are lower for treated diamonds in colors like green, blue, yellow or pink, making them perfect for fashionable diamond jewelry.
Diamonds are not just for special events. Pure diamonds are becoming more and more in style as part of women's everyday outfits around the world. All your dresses can complement the sparkling beauty of stunning diamond jewelery designs. It can also enhance the look of your formal attire. With diamonds in your wardrobe you will know that everything you put on will be striking and perfect.
Final Thoughts on Diamond Fashion Jewelry
There is nothing more classic than a diamond to adorn for events big and small. Diamonds offer a class, certain elegance, and are a great addition to every outfit irrespective of color. Simple and elegant, diamond bracelets and earrings bring out the shine effortlessly matching your every attire.