How to choose your Bridal Lehenga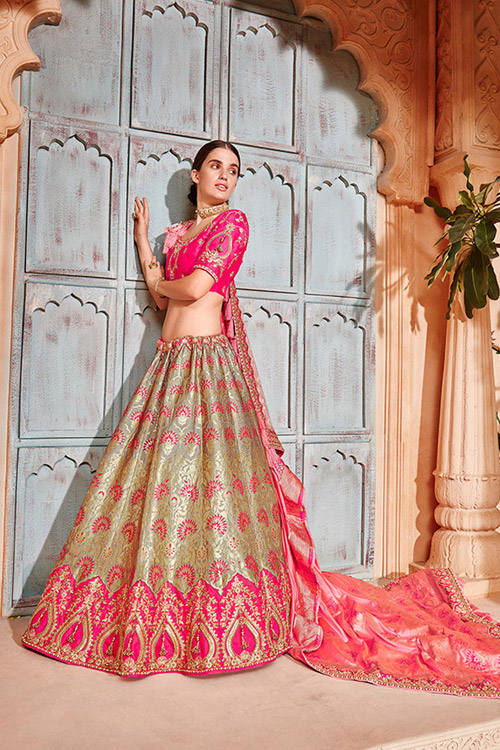 Your D-day is just around the corner and are you still worrying about the perfect lehenga for the Big day? We all know that bridal shopping is not easy and so is the case with you- Haven't been able to choose from millions of options that have been tossed at you? This is the reason we recommend exploring well and finding the best Indian lehenga that defines you as a bride and will knock your husband's socks off. From locations of the ceremonies to weather, you need to choose a lehenga that will suit your requirements and circumstances best.

Keep calm & scroll through these simple shopping tips before you hit the boutiques to select the best bridal lehenga for your wedding and make your shopping fun.

Make a List
Be clear about the things you need to buy. Do you want the other trousseau items too or just the lehenga? Are you looking for jewellery and latkans for lehenga as well? We recommend you to first and foremost purchase the lehenga & latkans. If in case you find other items that attract your attention a little too much, only then buy them, otherwise stay focused.

Identify Your Budget
You might be ready to invest in designer lehengas but make an estimate of all the other items as well. Bifurcate to have a bracket for your jewellery, lehenga and other accessories. That way you won't have to leave a lehenga that you love just for the reason that it doesn't fit into your budget.

Decide on a maximum and minimum price and visit markets that will get you your ideal lehenga within that price range. The result will be a great wedding lehenga that you'll love the rest of your life and won't regret your decision.

Find Your Style
Browse online to shortlist styles and outfits that appeal to you. You can also visit bridal exhibitions that expose you to designs and designers from other cities. It'll give you a wider perspective on brands & designer lehengas for wedding.

All this research will help you identify what style, colour, fabric and silhouette suits you.

Go With a Different Colour
Top designers in India like Manish Malhotra, Anita Dongre and Sabyasachi Mukherjee like to experiment with colours and so should you. Your cousin might have looked gorgeous in red but that doesn't mean you have to go with a red lehenga too. Your personality should reflect in your wedding attire and if your favourite colour is pink, then do not let anyone keep you from wearing a pink lehenga.

Consider the Season
The date of your wedding directly impacts your lehenga in terms of colour, fabric and silhouette. You cannot wear a velvet lehenga during summers nor can you wear a chiffon saree for a winter sangeet ceremony. Keep these important factors in mind to ensure complete comfort on your wedding day.

Also, keep these things in mind for a stunning bridal look-
Get the final fitting done in advance.
Your makeup artist should see your wedding outfit in order to figure out a look for you that will suit your colour palette and features.
Choose your necklace according to the neckline. For example, if you are going to wear a deep-U neck then go with a choker set- it would look stunning.
Considering the Indian wedding, since you'll have to do a lot of walking, opt for comfortable shoes only.
Stay Connect With US & Keep sharing your article with us, I accept all fashion related content, Checkout here our write for us fashion guidelines.