Quick Guide on How to Wear Lehenga With A Saree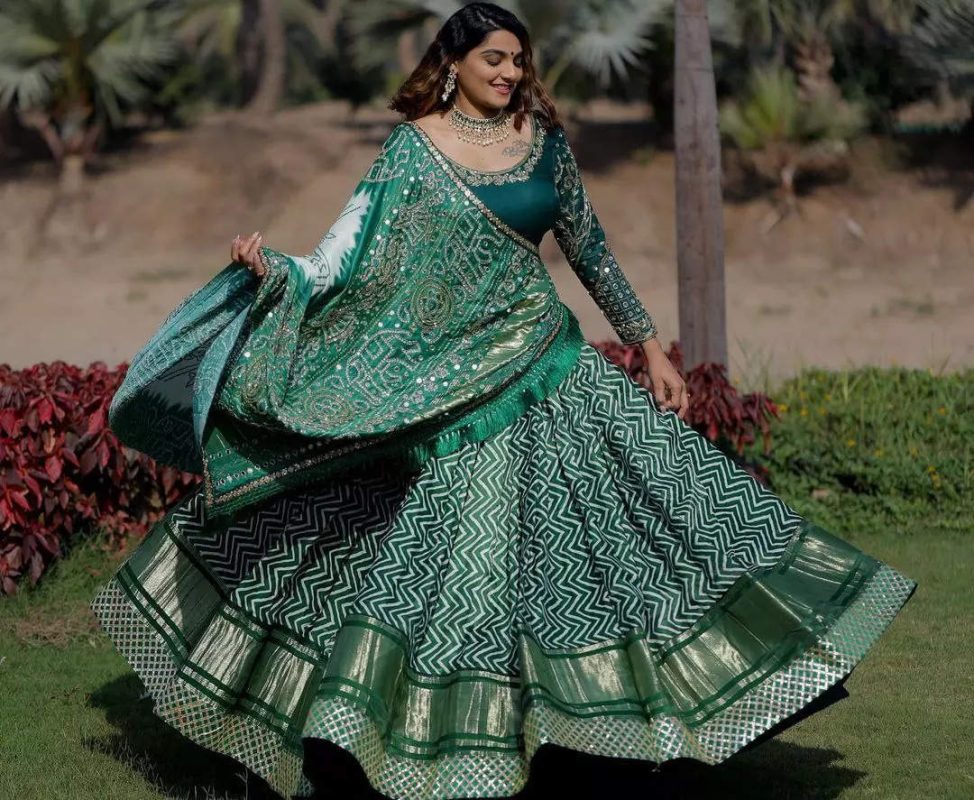 Beautiful and effortless, a lehenga saree is a gift to womankind. It is easy to style, adds oomph to your ethnic ensemble, and is your go-to attire to be the head-turner on any occasion. Be it a sangeet outfit with a flair you wish for or a spring-fresh look, a lehenga-type saree is just the right fit!
A Lehenga saree is a perfect fusion of two ethnic attires and can be described as a pre-draped, saree-style lehenga skirt matched with a choli and a dupatta that needs to be pleated like a saree pallu.
If you cannot decide between a saree and a lehenga choli at an upcoming wedding function or are too lazy to learn to drape or carry a saree, a lehenga-style saree is the answer! Here is our take on how to wear the latest lehenga choli saree beautifully. These thoughtfully curated pro tips are for everyone and any occasion. From a formal office function to BFF's wedding, we have got you covered!
6 Quick Tips to Wear Your Lehenga Saree Perfectly
Wear an underskirt to lend a rich feel to the look of the lehenga pleats
A traditional saree is wrapped around a petticoat. On the contrary, a lehenga-style saree is wrapped around an underskirt. Therefore, ensure you wear an underskirt made of high-quality satin or shimmer fabric. Choose a thicker fabric so that the pleats appear heavier and exude the sumptuousness of a lehenga.
Pleating is very important
Lehenga-style saree draping involves pleating. How neatly you pleat a saree defines how well your drape will turn out. Make sure your first pleat is 4 to 5 inches wide. The second and the following pleats must be the same shape and size. As you move along to tuck, make sure there is no gap between the pleats. Continue pleating until you reach the other end of the waist on the left, and tuck the last pleat there.
Drape a stylish pallu
One of the key elements in styling a bridal lehenga choli design saree is the 'dupatta'. Dupatta needs to be cleverly draped, pleated, and pinned around the body to resemble a saree. Two of the most adored ways of draping the dupatta are:
Opt for a casual drape if you wish to flaunt the intricate work on your blouse. Take one end of the dupatta and tuck it on the left side of your waist. Loosen it up, and pull it onto your right shoulder from behind. Secure it with a pin on the shoulder and let it hang in the front on the right.
To show off that bareback and make heads turn with your heavily embroidered dupatta, go for the hanging U-drape style. Pleat one end of the dupatta and secure it on the left shoulder, leaving a longer part flowing behind. Take the front half of the dupatta and pin it to the right side of the waist. Pleat the longer part tightly and neatly and secure it on the right at the waist. This creates a U-shaped fall at the back, hanging well below the hip.
Pin them properly
Remember to pin up the pleats and the pallu properly. To add a dollop of playfulness to the ensemble, you can try a cummerbund or jewelry that could be tied at the waist, thereby raising the glam quotient of your lehenga saree.
Embrace the experimental concept
Make pleats all along the waistband of the underskirt and use up the entire saree to create the pleats. Now add a dupatta, preferably in a contrasting hue to give a pop of color. All you need to do is take the dupatta, pleat it as you would for a pallu, and tuck it simply on the other side at the waist.
Here's how you can make the contrast work:
For example, you can pair a Kreeva red lehenga with a dupatta in many bright colors like orange, pink and blue, radiating a carnival of colors. This stunning outfit will look like a rainbow of sorts.
Another example of teaming the lehenga with a contrasting dupatta would be wearing a Kreeva purple lehenga in velvet fabric with a lilac dupatta in a soft tone.
Add an oomph to your look with the right pair of adornments
When you think of jewelry for a lehenga saree, you should be looking for statement earrings like traditional chandbalis in matching hues, jhumkas, and ear cuffs. They look regal and can amp up your fashion game instantly.
Shop For The Latest Lehenga Choli Designs For Wedding
The lehenga saree style lends a contemporary twist to our traditional saree. It undoubtedly is an effortless way of looking like a 'Desi Pataka'. It is becoming such a popular choice among women that the Indian markets are nowadays brimming with a plethora of lehenga sarees, especially lehenga choli designs. If you are also planning to buy one for yourself for the next event and wondering where to buy the latest lehenga choli? Here's a unique collection of the latest lehenga choli for women, available in various colors, embellishments, and embroidery work with exuberant artistic detail.