Levi's Men's 502 Taper Jeans: The Best Jeans for Any Occasion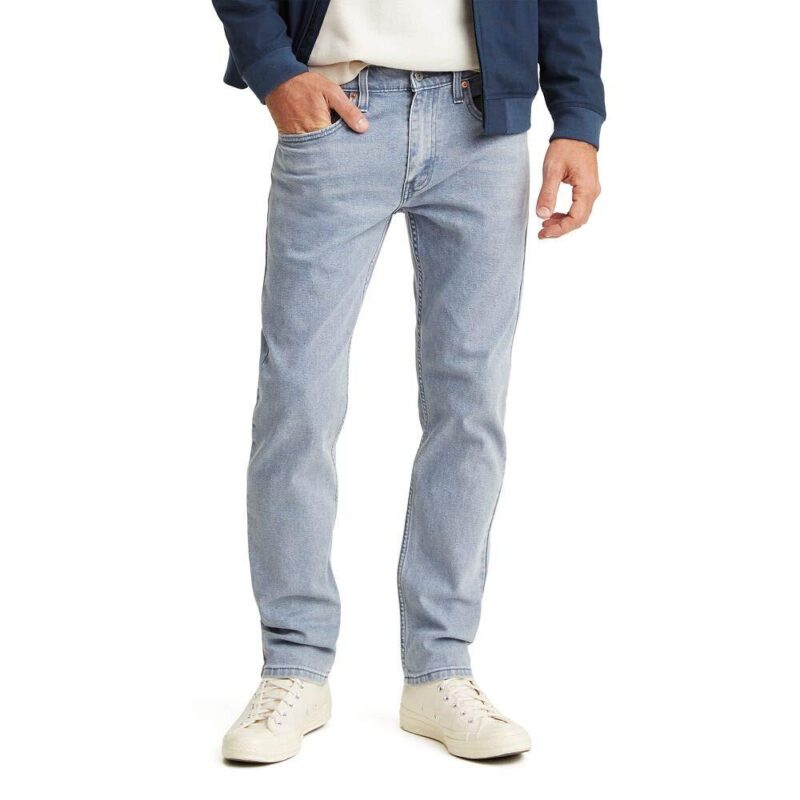 Introduction
Jeans have always been an important casual attire that most people love to have in their wardrobes. They are known to be a type of pants or trousers that are made with dungaree or denim cloth. The blue jeans were invented by Jacob W. Davis along with Levi Strauss & Co. in the year 1871.
The variety of jeans that you get to wear is the result of the great partnership between Jacob W. Davis and Levi Strauss. Getting good jeans is a very challenging task; since there are a variety of jeans available in the market. But if you want to create a particular style statement, then choosing the perfect jean; would help you achieve it.
If you want to look stylish without paying unnecessarily on useless clothing; then go through this article and get a proper idea of purchasing the jeans that you desire. Getting good jeans can be a complicated task in the market. If you don't want to buy from your regular clothing store, then here at Ubuy; we have some great jeans for you to choose, from the comfort of your home.
Levi's Men's 502 Taper Jean
The Levi's men's 502 taper jean is a must-have clothing for your wardrobe; as it comes with 30 different types of washed styles. It is a medium wash miracle clothing that goes fine with everything you wear. Get a great fit and feel comfortable after wearing these jeans. It offers sufficient space around the thigh area along with small round ankles to look fit without making you feel like wearing a skinny jean.
The delight of wearing this classic style comes in an effective price range; which makes it a perfect pair of jeans to wear on a daily basis. The 502 keeps your leg in the comfort zone by offering regular fit through the thigh and seat while narrowing down at the ankles. It is a suitable denim jean for men to have a great style. The 502 taper jean is made with 81.5% Cotton, 17% Polyester and 1.5% Elastane. This regular fit jean needs to be washed separately inside out.
Levi's has put in a lot of effort in making these jeans quite environment friendly. In their latest addition the "Well Thread Line," every pair of jeans they manufacture, are now fully recyclable. This means that your old jeans can be used to make a new pair.
Levi's is the symbol of the classic American style of fashion. It embarked its journey from 1853 and from then tried to offer effortless cool style to people across the globe. They have created 502 taper jeans by capturing the imaginations of people from different mindsets. Levi's has continued to spread its wings from one generation to another pioneering and innovating new ideas; which makes them unparalleled in the apparel industry.
Some Popular Levi's Jeans to Try
Levi's Men's 550 Relaxed Fit Jeans
Levi's Men's 550 Relaxed Fit Jeans are classic and comfortable jeans; which were introduced in 1985. Since then, they have always been taking care of the style and comfort of various people around the globe. The 550 offers more comfort compared to 501 but looks slightly baggy.
It is manufactured using sustainable eco-friendly techniques and made of 100% cotton fabric which is non-stretchable and has 5 pocket styling. You can wash it once or as required after every 10 wears.
Levi's Men's 501 Original Fit Jeans
Levi's Men's 501 Original Fit Jeans had started the journey for all other Levi's jeans that are currently in existence today. The classic straight leg and iconic style of 501 is the blueprint for all their other jeans. It has been a defining style for decades.
The 501 has a signature button fly and iconic straight fit which still offers an authentic look and feel. It is made from 100% cotton and offers a regular fit.
Levi's Men's 527 Slim Bootcut Fit Jeans
The Levi's Men's 527 Slim Bootcut Fit Jeans is a modern slim fit bootcut jean that comes with a wide leg opening to fit over boots. It is also made by using eco-friendly techniques. It is slim through the seat and thigh and sits fit at your waist. The leg opening that you get with it is around 18.25 inch.
Conclusion
Levi's men's 502 taper jean is one of the best ways to add an unrealistic style statement to your demeanour. The intricate designing work on it will help you to feel special and stylish. Choosing 502 will be an excellent option to replace your old straight jeans; since it is a modern alternative for you to feel the comfort and ease of motion.
502 is considered as one of the best Levi's jeans available out there in the market. If you are looking for other good jeans to wear; then you can choose 502 tamper jeans and feel satisfied. These jeans are created with unique moisture-wicking technology and breathable fabric. The Levi's brand is popular across the world and its products are renowned for its quality, design, color and comfort.
So, if you are interested in finding a plethora of Levi's jeans in different shades, sizes and styles; then looking online would be a great idea to find that perfect pair of jeans. There are multiple popular websites available for online shopping in Saudi Arabia which are offering a wide variety of jeans to suit all tastes. So search online to find exactly what you are looking for to save time, energy and money. A good pair of jeans is a great asset for any person.
Stay Connect with Dazzling Point