Tips to Look Stylish in Silk Sarees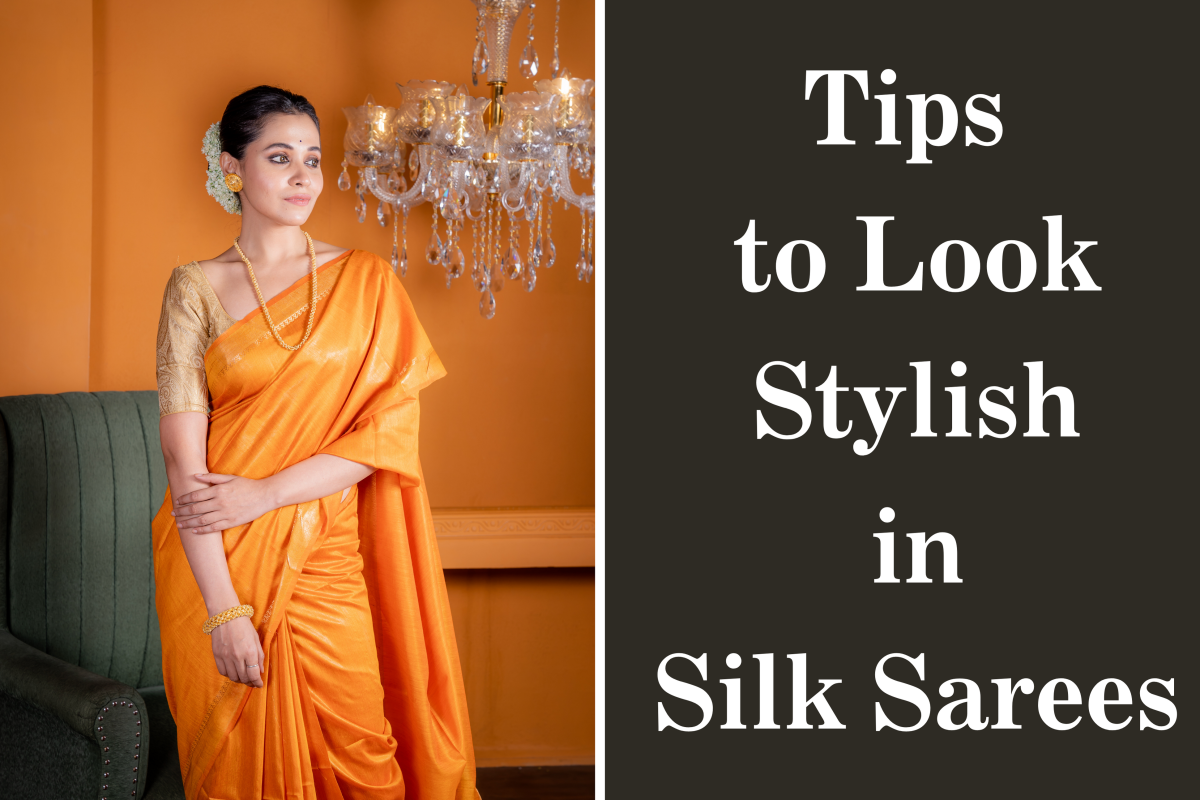 Are you a lover of silk saree but do not know how to look stylish in silk saree? If yes then read this article with full of attention as in a step by step guide we are going to describe how to look stylish in silk sarees.
6 Pro tips to look stylish in silk sarees 2023
If you are wearing a silk saree for the first time then it can be a challenging task for you. That's why in the 6 below given steps we are going to describe how to look stylish in an office wear saree for both occasions & office wear purposes.
Always Choose Pure silk saree
If you want to look stylish in silk saree then always select pure silk saree. In the market you will find silk saree at a lower price but it's not made up of pure silk material. Now you will ask me how to choose pure silk fabric saree and my answer is to notice the silk mark certified tag while selecting the pure silk saree.
You will get a gorgeous look only by having pure silk fabric made of saree.
Drape the saree uniquely and stylishly
Draping pure silk saree is simply an art. If you want to do it perfectly then it requires daily basis practice and attention. If you can drape the saree properly then it will improve your overall look. Therefore you must learn the proper technique of draping the saree perfectly.
According to the region there are various ways of draping but for bengalis the draping style involves pleating the pallu at the back and bringing it over the left shoulder.
Give attention to your blouse design
The blouse design can improve the entire look of your silk saree. Selecting the right blouse that matches your saree is always essential. If you wear a well designed blouse then it can make a simple silk saree look gorgeous.
You can select different blouses for different occasions. A boat neck blouse will match with your saree for a formal type of occasion on the other hand a high neck blouse with minimal detailing is the perfect casual type of event.
If you have toned arms then a halter neck blouse will be another attractive choice for your silk saree. So while choosing a blouse for your silk saree always keep the body types in your mind.
Select the right Jewelry
It's important to wear jewelry by matching with the colour of your blouse. By doing this you can improve your look. If you are going to attend any party then it will be better if you try any stylish looking necklace along with your silk saree.
If you are going to attend any wedding ceremony by wearing a silk saree then it will be better if you carry a heavy necklace with long earrings.
Keep the pallu on front side
You should always keep the pallu of your silk saree on the front side so that everyone can appreciate the design of your pallu.
Double pallu style
In this particular style the saree is draped in such a way that two pallus will form one will form over the head and the other one will form over the left shoulder.
Pure Silk sarees that will give you stylish look
Now we are going to discuss from which pure silk sarees you are going to get stylish look
Gadwal Silk Saree – At first I will keep gadwal silk saree. I am keeping the Gadwal Silk saree at first because it's a kuttu border designed saree which will help you in giving a stylish look both in parties and occasions.
Tussar Silk Saree – Another Silk saree that you can try is Tussar silk saree. By wearing a tussar silk saree you are going to get a traditional type look.
Paithani Silk Saree – If you're attending a wedding ceremony and planning to wear a silk saree, consider trying a Paithani silk saree. It can give you a stunning and elegant look.
Conclusion
I think our 5 pro tips will surely help you to keep yourself stylish in silk saree. After reading the whole article if you have any more questions regarding this then you can feel free to clear your doubts by asking questions on the below given comment section.
If you have found this article an informative one then please share this article with your friends and family members who are lovers of silk saree.
FAQ
What looks good with silk?
With Silk necklace ,bangles and a high neck blouse look great. So wear these things with your favourite pure silk saree to get a stylish look.