Why you need a pink handbag in 2023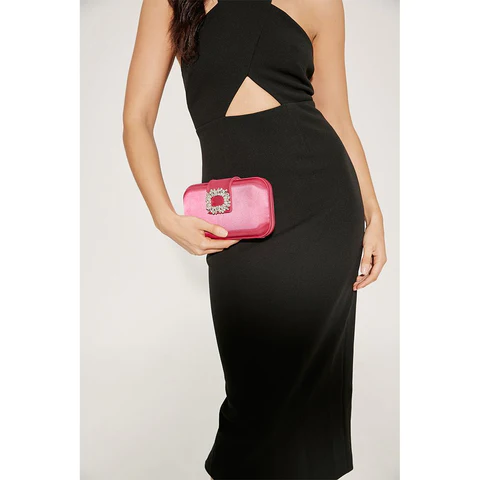 Updating your accessories? Or feel like your current style needs a bit of a face lift? We hear you. One of the easiest ways to freshen up your wardrobe is with a colorful handbag. It adds a splash of color to your look and is the most rewearable item you'll ever own. In 2023, it's all about pink, so what better color to choose for your new handbag. Keep reading to find out why you should invest in a pink handbag in 2023.
5 Reasons To Buy a Pink Handbag
Pantone color of the year
In case you didn't know, viva magenta (also known as a sort of mulberry pink) is the 2023 Pantone color of the year. We're seeing this splash of pink everywhere at the moment from hot pink pants to dresses to headbands to handbags. It can be a hard color to wear however as it's very bold. A more subtle way to give a nod to this fashionable shade is via your accessories with a cute pink handbag.
Fashion statement
Make a fashion statement with gorgeous pink. It's trendy, and stands out from more neutral colors like classic white and black or beige.
Versatility
Pink can be a versatile color that pairs well with a range of outfits and styles, making a pink handbag a good choice for various occasions.
Express personality
Pink can be seen as a fun and playful color, and a pink handbag can help express the wearer's personality and style.
Mood booster
Some people might find that carrying a bright, cheerful pink handbag can lift their mood and make them feel more confident and happy.
The Best Pink Handbags in 2023
Have we convinced you to go pink yet? Here's our suggestions for the top pink handbags to try to revamp your look.
Caylee Wood Bead Handle Bag
This one screams high tea with your girlfriends. Add some polish to your day and night time looks with the super cute CAYLEE bag. It features a smooth wooden bead top handle which contrasts beautifully with the structured body.
Estelle Feather Clutch
This one screams walk on the wild side. She's got layers of genuine feathers, so she's sure to start a conversation. Wear with jeans or your favourite LBD. Large enough to store all of your day to night essentials, this fuchsia bag is as functional as it is beautiful.
Casey Hot Fix Clutch
This one screams big Saturday night out! Casey likes to dance up a storm and this bag brings serious disco vibes to the party. With its curved lines and glossy hardware, the slightly two-tone crystals are super sparkly and ultra eye catching.
Lia Monogrammed Clutch
This one screams bridesmaid essential! If you want to gift your bridesmaids a special keepsake they'll remember from your day, pick the Lia Clutch and get their initials monogrammed onto the bag. A keepsake they can use again and again.
Danni Satin Clutch from Olga Berg
This one screams special evening event wear! She's ultra classy in a hot pink magenta satin material and would work perfectly with a full length black cocktail dress. She's a little diva like, but we love her all the more for it.
Ready to choose your new pink handbag? Whatever you decide, remember to use a pink bag to add some fun to your overall outfit!