6 Piercing Trends You Can't Miss in 2022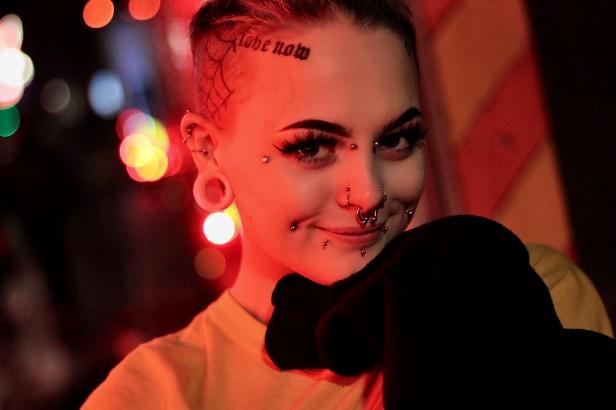 The year 2022 will bring more focus on individualisation and self-expression. There are different ways to achieve this, but one of those ways is by getting piercings. Piercings are one of the most common body modifications, common among young people. Keep reading if you want to know more about the top 6 piercing trends you can't miss in 2022.
Helix piercings
Helix piercings are one of the most trendiest piercings for millennials. A helix piercings is a cartilage ear piercings that often is pierced on the edge of the ear. Not only have they have been trending for the last decennia but they are very versatile and easy to match with other ear jewellery. Most piercing trends include these helix piercings. Let's start with the first one.
Double helix piercings
A double helix makes it easier to stack earrings and make them one whole piece. Celebrities like Scarlett Johansson wear two helix piercings. It is often worn with golden hoops with go around the edge of the ear creating a united pair of piercings, similar to each other.
Stacking piercings
Stacking piercings have been one of the more upcoming trends the last years. When stacking earrings, we often think it gets too full of hoops and studs but that's not always the case (it does happen though). Stacking earrings according a certain theme, for example constellations and space, makes your whole ear a jewellery piece. A star on your earlobe and some planet rings as helix makes the look amazing and brings some harmony to the chaos of stacking piercings.
Minimalistic piercings


On the other hand minimalistic piercings have also gone up the ranking. The trend of minimalism has been seen through clothing and décor but it also influences piercing preferences. Not everyone enjoys having 8 different piercing jewellery on one ear. You might want to opt for a single hoop with a diamond stud. Sometimes going simple is the way to go. It brings peace to the mind of people who like to be seen as neat and put together. It is also a more professional approach in case you have to wear ponytails to work.
Textured materials
Abstract and more textured materials have been sold more than ever. Golden waves on a round piece of jewellery tend to soothe the eyes of the viewer. It gives a more abstract look and it is different than most jewellery. Matt, acrylic jewellery have also been quite popular the last year. The matt finish gives a more minimalistic look to it, which also fits with elegant clothing. It is something different than the same metal, gold or silver look piercings often have.
Chains
Connecting 2 or even more piercing to each other sounds difficult but it is easier than ever. Piercing chains are fine, metal chains that are made to pull through the piercing hole and through another. It looks elegant and connects the 2 piercing spots to each other. It is different than an industrial piercing for which piercers use a long barbell on upper edge of the ear. A chain can go through the earlobe or even through the cartilage. If you do not have anatomy to get an industrial piercing, you can always opt for 2 helix piercings connected by a chain. It is one hell of a look!
Handmade, sustainable jewellery
Because of Covid-19 a lot of small business have been suffering from the consequences alongside the pandemic. Many millennials have come together and supported small businesses by buying their products or promoting their business. This caused a new trend to break out in which people start preferring handmade, sustainable jewellery instead of buying from fast fashion brands like Shein and H&M. Sustainability is still a very popular and controversial topic which makes people more aware of where their products come from. Handmade jewellery from small business often tend to be more transparent and communicate closely with the clients, which brings trust and reliability.
These are 6 piercings trends that will definitely become more common in 2022. Of course 2022 is all about self-expression, not everyone will be a fan of these trends. As long as you like the jewellery you wear because after all, 2022 is all about you.