6 Women's Fashion Tips to Beat the Summer Heat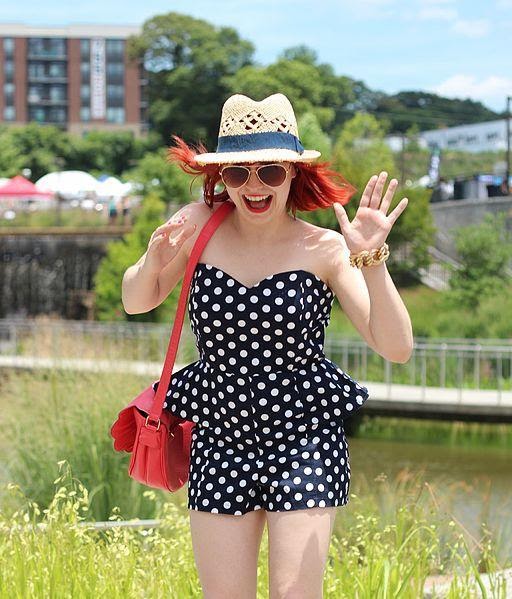 Summer is a time to wear light clothes and whatever you like. With no cold winds, rain, or snow to plan ahead for in this season, you can wear almost anything you want.
However, failure to prepare for the summer heat can make your days uncomfortable. Instead of hiding indoors away from the heat, you can dress for the heat and still enjoy the outdoors.
Image Courtesy of Wikimedia Commons
Flaunt casual outfits and wear comfortable clothing to beat the summer heat. Women transform their looks and make a fashion statement in summer, not just for the attention that comes with it, but also protection from the harsh sun.
Here are a few tips to help you dress in summer while keeping your body cool despite the high temperatures.
6 Tips to Help You Beat the Heat in Summer
Wear Light Colors
Light colors can keep you cool in hot weather. Even if you pick clothes made from breathable fabrics and with little sleeves, make sure they're in light colors.
If possible, wear white clothes because they'll reflect heat away from your body. However, dark colors absorb more heat and light, meaning you'd feel hot and uncomfortable. You're more likely to sweat in black than white.
Heavy clothes can make your summer boring despite the many parties and weddings lined up for the season. Apart from pastels, consider patterns and prints for a fun yet traditional look. Opt for light printed dresses or tops for your next summer event.
White Shirts
White shirts are versatile, meaning you can pair yours with a skirt, pant, jeans, shorts, or even a maxi dress. A white shirt is also chic and stylish. Pair it with a printed midi skirt, a slip dress, or even a neutral suit for an elevated look and comfort.
Wear Sandals or Slides
When dressing for summer, don't forget your toes or feet. Slides or sandals can keep you cool in summer heat. They're also attractive, especially when paired with shirts or thrown-on shorts.
Whether you're spending your day indoors or planning a trip to the beach or pool, you can wear a pair of your favorite sandals or slides.
Wear them with socks for an added fashion statement – they're comfortable and stylish. Opt for bold colors for a trendy look.
Wear a Light Scarf, a Cap or a Hat
A lightweight, breathable scarf, or a wide-brimmed hat can protect your skin from the harsh sun. The brim of your hat is designed to cover your neck and face from direct sunshine.
The scarf is versatile – you can wear it both for sun protection and as a fashion accessory. Wrap it over your head as a headgear or drape it over your shoulders for stylish coverage from the sun. If you get too sweaty, use a small, thin scarf as a hairband to keep it off your body.
Choose a cap, scarf, or hat in a lighter color to reflect the sun's heat from your body. Complete your favorite headgear with your street-wear for protection and a fashionable look.
Wear Natural Fabrics
Choose clothes made from natural fabrics, such as cotton and linen, to enable air to pass through and cool your skin. Linen, unlike synthetics like polyester and rayon, is breathable and doesn't cling to the skin.
Natural fabrics are lightweight, absorb sweat and dry faster for a comfortable feel on your skin. The natural materials have cooling properties, making them ideal for summer-wear. Buy a summer dress made from linen or cotton to keep you cool in summer. The clothes feel fresh on the skin.
Choose Flowy Clothes
Get clothes made from lighter, flowy fabrics to allow in air. When your clothes flow, cool air gets onto your skin for comfort. Avoid tight clothes because they're less flowy and breathable, meaning they can easily trap heat.
As a result, you'll sweat more and your clothing will lose its shape or look. Silk, cotton, lace, crochet, or chiffon are ideal fabrics for summer clothing. Opt for flowy tops and dresses for comfort and an elegant look. If you want to discover more contemporary, airy clothing, you can search online. For instance, you can visit websites such as https://nolabels.in/collections/kaftan to check out trendy clothes to improve your sense of fashion.  
Conclusion
Whether you love skirts or dresses, you need to wear loose and light clothes in summer for comfort. Go for natural materials, such as linen, silk, and cotton, when picking your summer clothes. The items are breathable and absorb moisture or sweat, letting your skin breathe properly in the heat of summer.
Wear clothes in light colors, such as white, because they reflect heat away from your body. Patterns and prints also work for summer tops and dresses. Don't forget to wear sandals, a white shirt, or accessorize with a hat or scarf for a chic look.
Whatever accessory you pick, it'll offer you sun protection and elevate the appearance of your outfit. Choose the right colors, fabrics, and accessories to beat summer heat.