Best Lehenga Designers in India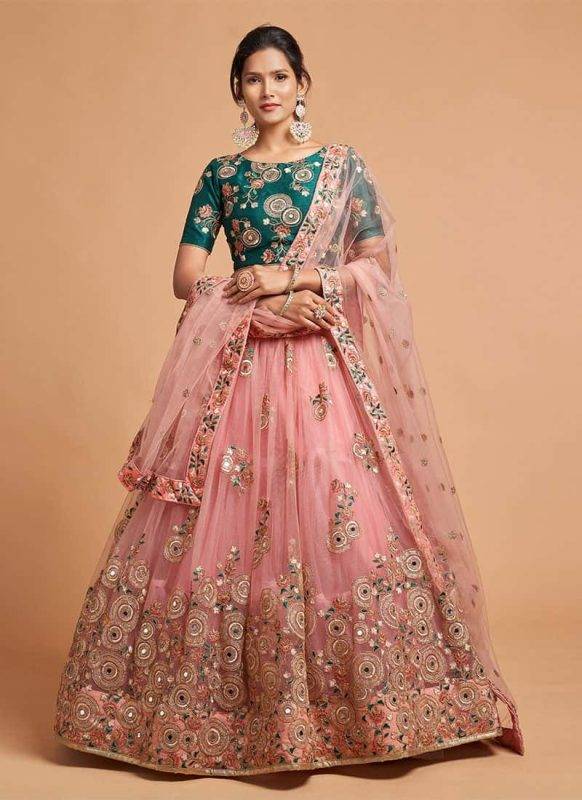 India is known for its culture and traditions and wearing a lehenga has been a part of our culture for years. Most of the brides in India wear lehenga as their wedding outfit. This three-piece set comes in different designs, colors, and fabrics. Not only in weddings women wear this on various occasions but whenever they go shopping the first thought that strikes them is which is the best place to buy the lehenga?
I am sure that many of you must have faced some trouble in finding the right one for you. Well! We understand this issue pretty well and so we are here to help you out. Every girl dreams of wearing the best lehenga on their big day and this dream is fulfilled by many top designers in India.
We are sure that you all have heard about some of the other designers and might have done shopping too. We should be proud of the fact that in India we have some very talented designers who are known for their exclusive work and are acknowledged not only in India but all over the world.
Today! In this article, we will be discussing the top lehenga designers in India. So! Stay tuned till last.
Sabyasachi Mukherjee
Designers are many, but few could make it to the best and Sabyasachi is one of them. Born on 23 February 1974, is among the well-known fashion designer who is acknowledged for his work not only in India but outside the nation too. Being a girl I can tell you that every girl dreams of wearing a lehenga designed by Sabyasachi Mukherjee. His designs could be seen in many B-town films. Sabyasachi works on the philosophy of "personalized imperfection of the human hand" and seems to be very much inspired by his hometown- Kolkata.
You can better understand this by seeing his work. If you ever have been to his outlet, you will understand what I am talking about. The designs are so pure, and authentic with a modern touch and will take you to the medieval ages. You can find various designs and work patterns like- block printing, bandhani, gotta, zari work, etc.
Many B-town celebs seem very fond of his work and choose to wear lehenga designed by him on their big day. Sabyasachi needs to be introduced as his name is enough in the world of fashion. You can find his outlet or stores in Kolkata, New Delhi, Mumbai, Hyderabad, and New York.
Tarun Tahiliani
Another noted lehenga designer of India is Tarun Tahiliani who is best known for his contribution to the Indian fashion industry. His designs are the fusion of Indian heritage and crafts with comfort. Being a founder of "Tahiliani Design Studio" he is also known for designing one of the best bridal wear. His designs are the best example of a traditional and modern mix.
He currently owns a total of nine stores in India in different cities like- Mumbai, Bengaluru, Indore, Delhi, and Hyderabad.
When it comes to bridal wear, Tarun Tahiliani comes at the top position. This versatile designer also owns India's first multi designers boutique. The reason behind the huge success of Tarun Tahiliani's bridal outfit and lehenga lies somewhere in its creativity and unique concept. Each of his designs has its own story and different style statement.
Today he is known all over the world for his designs and you can find his work even at international stores in Australia, Japan, the USA, and the Middle East.
Manish Malhotra
Another one on the list is someone who has completed more than 30 years in the industry and holds mastery in his field. Yes! I am talking about Manish Malhotra- a top fashion designer in India. Coming from a typical Punjabi family, Manish Malhotra has come a long way.
Manish Malhotra is a true example of dreaming big and doing hard work to make it a reality. He started as a model and worked in a boutique in his initial days. Later on established his name in Bollywood, through the film Rangeela for which he has been awarded the "Filmfare Award".
Talking about his work, Manish Malhotra believes in designing costumes based on their purpose. I remembered that once in an interview he mentioned that even for B-Town films, he designs costumes only after knowing the story. This helps him to create something new and this is what makes his work different from other designers.
From top celebrities of Bollywood and Hollywood to common people, everyone dreams to wear an outfit designed by this legendary designer. He is famous for his chikankari, Kashmiri, and resham work. One can find wide varieties of lehenga, sarees, gowns, and dresses that will make you look elegant and extra glamorous.
Ritu Kumar
One of the most respected and most talented designers in India is none other than Ritu Kumar, who is known for bringing the boutique trend to India. This finest designer is known all over India for her great work and is popularly known as "Couture Rani" Ritu Kumar is truly an inspiration for many.
Starting from a small village in Kolkata to being India's top designer she has come a long way. Her success is all because of her hard work and dedication to her profession. One can see India's culture and traditions in her design which is the uniqueness of her outfit. Not only this but she is the first one to bring the concept of contemporary through her design which took the fashion world to one level up.
This finest artist can transform traditional designs and patterns with a modern look which gives it a complete refreshing look.
Her supremacy can be felt by the fact that she has won various awards for her work and among them, the Indira Gandhi Priyadarshini award is one. Today almost everyone wants to wear her design to catch everyone's attention. Her work is recognized and worn by many national and international celebs all over the world.
At present Ritu Kumar owns 35 stores all over the world which is known for some best traditional yet modern outfits like- lehenga, sarees, embroidered suits, kurtis, etc.
Anita Dongre
Studied at SNDT Women's University, Mumbai, Anita Dongre has become one of the top designers in India. Today, her design is recognized all over the world, and is listed among the 50 most powerful women in business by "Fortune India".
Her hard work and dedication could be seen in her designs which are mostly inspired by Mughal Architecture, Traditional Craftsmanship, and culture. She is famous for work like- tie and dye, gota patti (inspired by Rajasthan), hand-painted work (inspired by Jaipur), chikankari work (inspired by Lucknow), brocade weaves, etc.
Due to her outstanding work, many Indian, as well as International celebs, love to wear outfits designed by her. This Mumbai-based designer is truly an inspiration for many and deserves to be on top of the list. Known as the "Queen of Pert", today she is the owner of 4 successful labels- AND, House of Anita Dongre, Grassroot, and Global Desi.
Final Words
Designing an outfit needs a lot of commitment and dedication. It's about putting your 100% effort to bring out what is required by the customer. It requires a lot of thought process, planning, and more importantly clarity of what you are delivering. The above-mentioned designers are the pride of India and are responsible for taking the Indian culture and fashion industry to the ultimate next level. They are truly an inspiration for many who dream to be top designers. They have shown the world that with hard work and commitment, you can achieve all the milestones.
Their work and working style are different from each other. You can go and visit their studios to try out different and unique outfits designed by them.
Thank you