Dream of every girl is to look stunning at her wedding day and she definitely does a lot of expense at her wedding then why doesn't she spend her money in the right place?
If you are bride-to-be then you might be confused about your wedding lehenga and if you are searching for a perfect wedding lehenga that will knock everyone's face out, then you have come to the right place. As it is once in a lifetime decision, it is very important to take care of some things when you are buying your wedding lehenga.
When you are choosing a lehenga you have to take care of your height, skin color, and body shape. Because many lehengas look beautiful in pictures but when you wear it you regret your decision and to save you from making this mistake we are here to show you which lehenga would be best for you.
Let's have a look at which wedding lehenga you should choose for your wedding:-
Wedding lehenga for X-shaped body.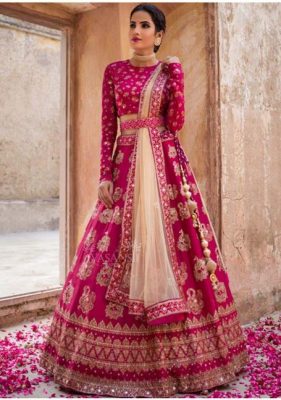 If you have X-shaped body then you should be really very happy almost all the things look best on you. You can wear any lehenga design with your body shape. Still, you have a choice to wear A-line skirt lehenga of smooth fabrics like velvet, chiffon, georgette, etc. you can combine a shot choli so that you can show your waist also you can attach a zardozi work dupatta such that your waist does not hide and you are ready to look stunning. Have a look at this lehenga by Vasansi's collection which is beautifully crafted for a perfect body like yours.
Wedding Lehenga for Rectangular Body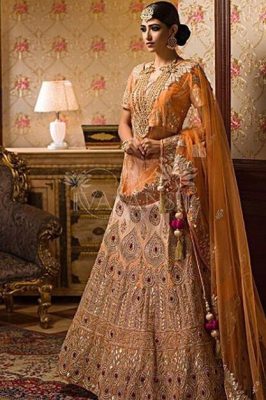 If you have a rectangular shaped body which means you got an athletic body without any curves. So your wedding lehenga should be like it creates curves for you itself. You can select a full skirt lehenga with heavy embroidery work. Make it flicker and use natural fabrics as it will add more volume at the bottom. While attaching dupatta don't forget to loose and fluid fabric.
Wedding Lehenga for Pear Shape Body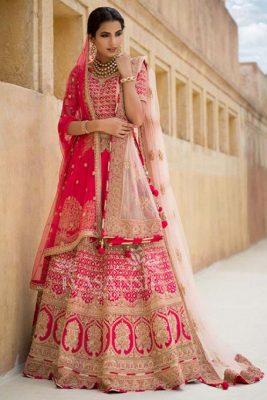 If you have a pear-shaped body then you might have faced a bit problem as your bottom is heavy and chest is flat so your lower body needs to look proportional to the upper body. Keep in mind that your wedding lehenga doesn't have too much work. You can avoid fish tale lehengas and also avoid hard fabrics. Keep a plain but a flowy lehenga and avoid lehenga which has flares. You can wear a padded blouse with deep neck or off shoulder blouse it will add flavor to your gorgeous wedding lehenga.
Wedding Lehenga for Apple Shaped Body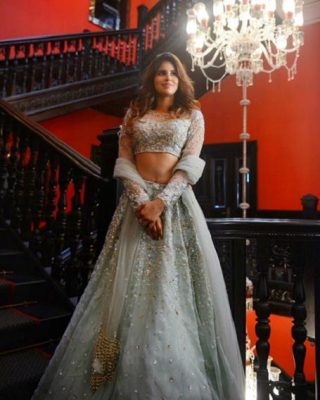 If you have an apple shaped body which means you have a heavy chest and your lower body is lighter then layered lehenga will be best for you because it will match your lower body with upper body. You can also try Jacket lehenga according to your body shape and do avoid tissue fabrics or brocade as these will make your body look flat and avoid deep neck, off-shoulder, or sleeveless designs of your blouse as it will make your upper body look heavier. Don't wrap your dupatta around neck or bust instead take it around your elbows.
Wedding Lehenga for O-Shaped Body.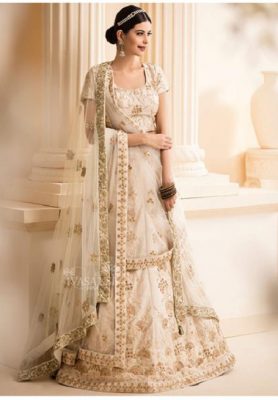 If your body is O-Shaped then you got evenly distributed weight all over body. Your waist and stomach might be chubby. You can choose a lehenga of smooth fabrics as it will be the best choice for you. You can add a long blouse which shows a little belly and can take your dupatta the way you want and you are gonna rock the wedding.
Off-White Lehenga for Wedding.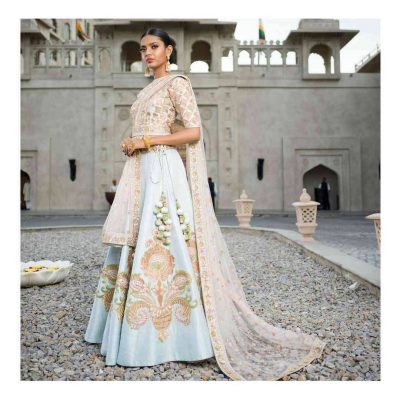 If you have fair skin color then you don't have to face problems regarding your lehenga color, you can wear any color lehenga at your wedding. But light colors will suit you more like Soft pastel, peach pink, off-white, light green, or if you wanna go with maroon or red lehenga then you can go for that too. But you have to take care of your body shape. You might have seen Bollywood actresses wearing light shades so it will be great if you go with the trend.
Choose the perfect wedding lehenga for yourself and as your wedding is once in a lifetime moment so capture it wearing a beautiful lehenga with a perfect blouse design, attach your dupatta in a proper way, wear matching jewelry, and use your glamorous makeup kit with a perfect hairstyle so that your husband can't lay off his eyes from you.
We wish a Happy Married Life ahead to all the Brides-to-be!!!.