Famous bridal makeup artist in india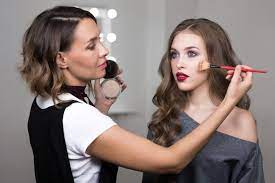 Look around your surrounding people, you will find most of the people around you wearing make -up. Today make-up has become the key to look attractive and beautiful. Make-up helps you to enhance your beauty and to hide your flaws.
Earlier make-up was limited to only for women but today men also use make-up to look handsome. With each passing time, new techniques are evolving and changing the meaning of make- up.
We all have to agree that make-up has become an important part of life. From going to college to getting ready for your wedding, we prefer wearing make-up to look presentable. Whether it's a common person like us or a top celebrity, everyone needs make-up on their big day. We often seem to be inspired by the look of celebrities. We even copy their look but we must have noticed that even after applying the same product, we somehow fail in getting a perfect look as them. Well! This is because of the fact that celebrities take help of the make-up artist to get their glam look.
Yes! It's the make-up artist who works hard to make our favorite celebrity look good. These artists are professional and have mastery in their profession. From Katrina Kaif, Deepika Padukone, Anushka Sharma to Kareena Kapoor Khan they all hired make-up professionals to get their over the top wedding look. In India we have some of the best make-up artists who are recognised all over the world. In this article we will be discussing some of the best make-up artists of our country. So! Stay tuned till last.
Sraddha Luthra-
When it comes to bridal makeup, Shraddha Luthra comes at the top position. Based in Mumbai, this make-up artist has a huge fan base and popularity when it comes to bridal makeup.
She holds mastery in her field and understands the importance of good make-up. Her contemporary style of make-up is popular among the youth. She knows how to blend all the elements perfectly and her each stroke does wonders on her client's face by enhancing their beauty. Famous for giving a perfect and subtle look, Sradha Luthra is not a new player in the race.
With 8 plus years of experience this artist has given a beautiful bridal look to about hundreds of brides. Despite being based in Mumbai, she accepts consignment from outside Mumbai too. So whether you are living in Mumbai or outside it, you can make your booking. She has commands on both as well as traditional look, and this is why she is one of the top make-up artists we have today. She uses top make-up brands products and applies it according to your skin types.
Bianca Louzado-
Another one in the list is a make-up artist who started her career as a model and later became India's top make-up artist. Based in Mumbai, she is known for working with top celebrities of India and also across the world. Into this business since 1999, it took her a lot of efforts and hard work to reach where she is.
Today she is one of the best hair and make-up experts we have today. She is famous for giving flawless, contemporary and natural looks. After gaining a proper knowledge about make-up in Canada and India, she opened her own make-up studio or company – Bianca Louzado Creative Make-up and Hair Design in the year 2010.
If you are a bride to be, you can make your booking and can get a look as per your choice. You can also visit her studio where you will get various options like-, bridal makeup, eye makeup, hair styling, dress draping and mehendi designing, etc. She is popular for giving well defined eye makeup and hair do. Her knowledge about make-up and understanding towards looks is really commendable.
Ojas Rajini
For more than 18 years in this make-up world, Ojas Rajini is yet another top make-up artist we have in India. She is a qualified make-up artist and has completed her degree from Miami School of Design. She has a working experience of 11 years and holds mastery in bridal eye makeup and hair style.
Based in Mumbai she is the founder of one of the popular makeup academies known as "Ojas Rajani Make-up and hair academy". Not only this she also gives classes on hair and make-up.
Apart from this she has shown her work in many films like- Enthiran and I. Her clients include celebrities like- Isha Kopikar, Perizaad Zorabian, Madhuri Dixit, Sridevi to Katrina Kaif, Deepika Padukone and other top B-town actresses.
Not only in India but others have established her name outside India too. Top international celebrities like Britney Spears, Mariah Carey, etc, have also been her clients too.
As per the review, people love her presence because of her great skills and humble behavior. If you are also looking to get a classy bridal look then she is definitely the one you may consider.
Jasmeet Kapany
Another one in our list is the Delhi based make-up artist "Jasmeet Kapany". Not only Indian brides but she is known for giving services to brides outside India too. From London, Dubai to Mumbai she has marked her foot in all places.
One of the thing that we like most about her is that she offers customized offers to her clients. Depending on your need and want you can have choose your make-up package.
No matter where you are living, Jasmeet Kapany could travel all the way from Delhi to your venue. If you are booking her for your bridal make-up, then you might jump out of happiness as she offers her bridal make-up services for all functions right from mehendi to reception. Isn't it a good thing?
She is famous for giving subtle, natural look which will enhance your beauty ten times. She holds mastery in giving – HD make-up, Regular make-up, party make-up, hairstyle, Eyelashes, dress or saree draping, etc.
Priya Todarwal
Another one in your list is the Mumbai based make-up artist who is known for her wonderful make-up skills. If you are planning to hier her for your wedding makeup then this might end up being a good decision.
She not only do make-up according to your wish but also suggest you to finalizing your bridal outfit to get your dreamy bridal look. The best part is, if you feel confused about the make-up look, you can go for paid make-up trails offered by her. This will help you to explore different look and to get the best look for yourself.
She have an exceptional make-up skills and holds years of experience. Her natural make-up look makes bride look scrumptious. She applies different techniques to make you look beautiful. In the year 2011, she opened her own make-up studio where you can get services like- bridal make-up, HD make-up, Natural bridal make-up, Reception make-up, Airbrush make-up, and a lot more. In case you live outside Mumbai, she travel to your venue to give you the desired look.
Summing Up
Understanding the importance of make-up in every brides life we have shortlisted these top five bridal make-up artists of India. They are masters in their profession and applies all techniques to give you the desired look. No matter how far you live from them they will reach out you to make your big day special and memorable one. They all are different from each other and so is their working styles. Apart from that they offers different range of packages or offers. So! It's on you to choose the right artist for you.
Thank You!