From Work to The Weekend: Women's Dresses for Every Occasion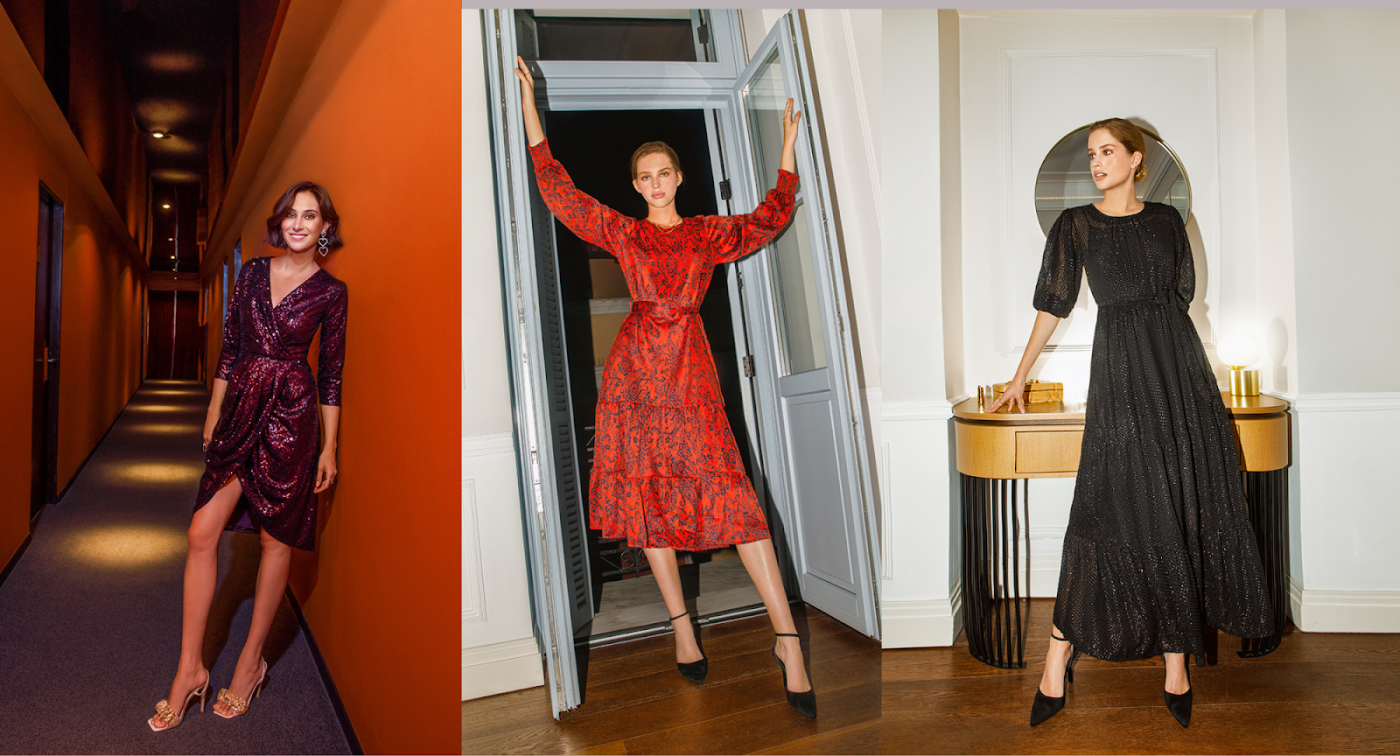 From Work to The Weekend: Women's Dresses for Every Occasion
Dresses are a versatile and effortless choice for any occasion. A dress can be dressed up or down effortlessly, from casual outings to formal events.
Some of the most popular styles of dresses for women include the little black dress, the maxi dress, the shift dress, the wrap dress, and the A-line dress. Dresses are an important piece of women's clothing that brings out the best in you! From adorable little midi dresses to quirky pattern dresses and bold colours.
With so many options to choose from, there is a chance of getting lost in the world of Dresses, so worry no more because we have listed the top most Dresses for women for you to choose and style as per your occasion.
Types Of Dresses For Women & Styling Tips!
Bodycon Dresses
Bodycon is the short form of "body-conscious". It is a tight-fitting dress, often made of stretchy material, that emphasises body curves rather than hides them. This body-hugging, stylish, modern outfit impeccably suits a woman's silhouette. Bodycon dresses for women beautifully boost your confidence to flaunt that perfect figure.
Styling Tips
It is best to minimize your accessories, as the dress itself is a showstopper.
You can pair it with dangling earrings, a designer watch, and a simple clutch for the perfect look for the evening.
A little black dress can never go wrong for boosting your confidence. If it is not black, pick a darker shade rather than a lighter one.
For a perfectly flattering look, always go for thick fabric.
Floral Dresses
Women love to unravel floral dresses, be it any season. Although this trend never goes out of style, all the high-end designers keep upgrading their floral prints for their latest collections. The floral dresses for women are perfect for the Spring-Summer seasons as they exude a feminine and romantic aura.
Styling Tips
You can accessorise it with statement jewellery like earrings or a bracelet.
Your choice of shoes will depend on the style of the dress. Floral dresses go well with just about any type of footwear!
A chic sling bag or a tote will suit your floral dress the best. You can pick your favourite sunglasses to look elegant.
Wrap-Up Dresses
Wrap-up dresses are a timeless and versatile fashion choice for women. These dresses feature a waist tie or belt that wraps around the body, cinching the waist and creating a flattering silhouette. A wrap-up dress can be worn in both formal and casual settings, making it a must-have.
Styling Tips
For a more formal look, opt for a wrap-up dress made from fabrics such as silk or satin, and pair it with heels and statement jewellery.
Pair a wrap-up dress made from cotton or linen for a casual daytime look with flat sandals or sneakers.
A wrap-up dress with a bold print or bright colour can be paired with neutral heels and jewellery for a daytime event, or worn with strappy heels and statement jewellery for a night out.
A minimalistic wrap-up dress in black or navy can be paired with fun accessories for a dressed-up look or worn with a denim jacket and sneakers for a more laid-back vibe.
Midi Dresses
A midi dress is a type of dress that falls between the knee and ankle. The length of the dress makes it a great option for work, formal events or casual outings, as it strikes a balance between being formal and casual. Midi dresses can come in a wide range of styles, from body-hugging to flowy and billowy, and they can be made from various fabrics, such as cotton, silk, and linen.
Styling Tips
You can pair a midi dress with heels for a formal event, denim jacket, and sneakers for a casual look.
Choose shoes that are not too clunky and heavy, such as heavy boots, platform sandals, or sneakers. You can nicely pair the dress with strappy high heels for a perfect look.
Midi dresses are also great for layering, and you can pair them with cardigans, blazers, or jackets to make them appropriate for colder weather.
Black Dresses
One of the most iconic and timeless dress styles is the Little Black Dress. A staple in any woman's wardrobe, as it can be worn to a wide range of events, from a cocktail party to a night out on the town.
Styling Tips
The key to pulling off a little black dress is accessorising it correctly
Pair it with a denim jacket or sneakers can make it more casual, and wearing high heels will make it party ready
To keep it simple, you can wear elegant crystal earrings without accessorising much for the occasion.
With so many different styles of dresses available, there's something for every woman to love and find the best women's clothing. You can check out the huge collection of VERO MODA and ONLY dresses to add more style to your wardrobe. From the plethora of collections like Maxi Dresses, Sheath Dresses, and more, choose the one that fits your style and makes you feel more beautiful. Accessorise them properly to make the right fashion statement. So head to VERO MODA and ONLY online store now!