HISTORY OF BOLLYWOOD DRESSES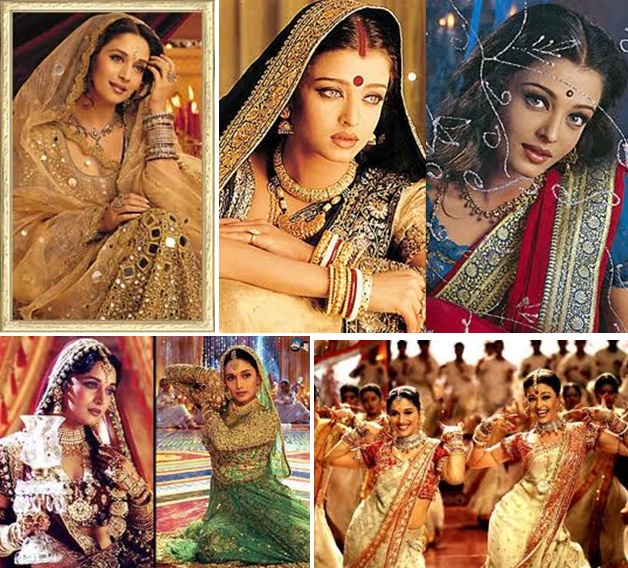 Bollywood is like a whole another religion and Indian people are very close to it. The messages delivered by it, the fashion trends, etc. are followed by the people. The history of Indian clothing is also very closely related to the trends in Bollywood. Before independence, a large majority of Indian women were aware only about the classic Indian outfits such as the saree, kurta, salwar kameez, dhoti, and so on.
1913 marked the birth of Bollywood. As the film industry grew, new styles, trends, fashion statements became popular. With every passing year, Bollywood brought to us refined version clothing. And today, the Indian fashion industry has expanded manifolds. Bollywood plays a fairly big role in influencing what people wear.
BOLLYWOOD DRESSES
A large majority of fashion in India is inspired by Bollywood. The remaining is influenced by western culture. However, Bollywood fashion showcases a blend of Indian and western fashion. The cuts, colour, designs and so on are very appealing to Bollywood dresses and it's the reason why they are such a hit amongst the masses.

Some films are just so magnificent like Devdas and Padmavat that you can just adore the outfits. Wearing them on a regular basis will just make you look like a fool. But there are many styles that you can wear on a day-to-day basis.
The red dress has suddenly gained a lot of importance. Bollywood divas have a unique style statement of their own which they ace on every media appearance. Taking inspiration from these outfits, one can be a head turner at a casual party. Don't copy their style as it might not suit you just as well it does them. Therefore, experiment with your look to achieve the desired result.
BOLLYWOOD SAREES
Bollywood has a thing for sarees. The kanjivaram saree was first popularized by Bollywood actress Rekha. Following her footsteps, Vidya Balan and Deepika Padukone also started donning the Kanjivaram saree in their media appearances. This made the Kanjeevaram saree very popular among women across the length and breadth of the nation. This saree has been repeated in a number of movies which inspire ethnic trends.
Yash Chopra's movies are known to have magnificent costumes. Special chiffon saree collections are inspired by him and sell like hotcakes. Also, there are replicas of costumes worn by actresses in movies. These are readily available and showcase a comprehensive blend of regional and unique fashion.
BOLLYWOOD BRIDAL OUTFIT
Bollywood's bridal collection is heavily embroidered, has intricate designs, and come at a high price point. But women don't really go by the price tag for their special day. Bollywood's bridal outfits are very colorful and are specifically designed to look good on screen. Therefore, do try them for yourself before making the final decision.
Aside from the saree, women can also go for the lehenga choli or salwar kameez for their wedding. Both of them are traditional outfits and work pretty well on weddings. Velvet and fishnet sarees were not a thing 2 decades ago. But Bollywood movies brought them in fashion and today they are one of the most used fabrics for making sarees.
The anarkali salwar kameez shows the best use of net and velvet fabric. The anarkali suit originated from the movie Mughal-E-Azam and is still a thing.
I accept all fashion related content, Checkout here our Fashion write for us guidelines. Stay Connect With US & Keep sharing your article with us,