The ABCs of Suncare: Vitamin C, SPF, and Anti-Ageing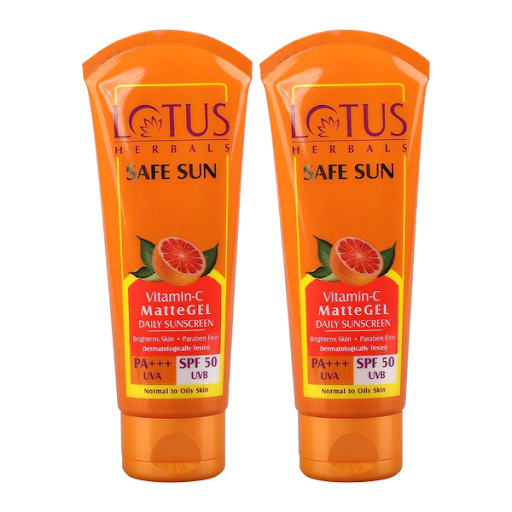 The benefits of vitamin C for skin care are no longer veiled. Everyone is counting on this one ingredient for its innumerable benefits. With so many products infused with vitamin C, one is always in a delusion to pick the right product. A sunscreen with vitamin C SPF is the new buzz in the skincare industry. A new product on the shelf always brings along many questions. Is vitamin C sunscreen perfect for my skin? Is the combination suitable for all skin types? How about the anti-ageing factor in this sunscreen? Would it be effective enough? Hold on! Let's take the questions individually and resolve all your doubts here.
What is vitamin C sun protection?
Vitamin C is a super source of antioxidants. It is a potent ingredient that protects the skin from environmental and sun damage. It also repairs and restores the skin, minimizing early signs of ageing. Sunscreens, too, protect the skin from suntan, sunburn, and sun damage. Sun damage is when the UV rays harm the skin, and the skin starts showing early signs of ageing.
As the skin ages or is exposed to environmental damage, it loses its vitamin C presence. The reduction in this antioxidant increases the process of ageing and slows down the skin healing process. Vitamin C in your sunscreen gives you double protection against environmental damage and boosts skin repair.
What are the benefits of vitamin C sunscreen?
Combining vitamin C and SPF brings many good things to your skin. Here are answers to many questions regarding this combo:
Neutralises free radicals
Vitamin C in sunscreen will miraculously protect your skin against UV damage by neutralising free radicals. When exposed to sun rays, free radicals cause oxidative stress that leads to fine lines and wrinkles. A simple way to keep your skin healthy and youthful is to use a vitamin C sunblock.
2. Controls elastin and collagen breakdown
Collagen and elastin in the skin keep it supple and plump. Harmful sun rays break down the collagen in the skin, making it loose and saggy. The antioxidants in vitamin C protect the breaking down of elastin and collagen in sunlight, and a broad-spectrum sunscreen supports the process. The combo, therefore, keeps your skin tight and delays the process of early ageing.
3. Regulates melanin production
Melanin is released by melanocyte cells, which are responsible for giving colour to the skin. When sun exposure, melanocytes release a high quantity of melanin to protect the skin from harmful UV rays. This causes skin pigmentation, spots, and tan or darkening when exposed to sunlight. Vitamin C has proved effective in even out the skin tone. Vitamin C sunblock protects the skin from uneven skin tone by regulating melanin production.
4. Evens out skin tone
Vitamin C is an effective ingredient for removing marks, spots, and pigmentation. While a potent sunscreen protects your skin from discolouration, vitamin C helps repair the damaged skin and restore the natural skin colour. Vitamin C sun protection regulates melanin production, protects skin from spots and pigmentation, and reverses skin discolouration.
The benefits highlight the importance of vitamin C SPF as a potent combination for anti-ageing products. One ingredient in your sunscreen can be a total game changer in your skincare regimen.
What ingredients to look for in vitamin C sunscreen?
The essential ingredients and features to look for in vitamin C sunscreen are:
Ascorbic acid, which is found in oranges, lemon, Kakadu plum, and other vitamin-rich natural ingredients, is the essential component of vitamin C to look for in sunscreen. A low pH level with L-ascorbic acid is the right combination for vitamin C to work best for the skin.
Look for a broad-spectrum sunscreen that protects from both UVA and UVB rays.
For Indian climate and skin, wear a minimum of SPF 30 sunscreen. Increase the SPF if you are residing on the beach or hilly terrains.
Go for a sunscreen that comes with the goodness of natural ingredients over the ones with chemical ingredients.
Always go for a sunscreen that is paraben-free, preservative-free, and cruelty-free. This makes them environment-friendly and skin-friendly.
Is vitamin C sunscreen suitable for oily skin?
Though this formulation is suitable for all skin types, we suggest going for gel-based and matt finish vitamin C sunscreen for oily skin. Gel-based sunscreens are light, easily absorbable by the skin, and keep the skin hydrated. These features work in favour of oily skin, keeping a check on sebum production and skin healthy and nourished.
What do you think about another dimension of vitamin C as an ingredient in sunscreen? It is the easiest way to use vitamin C in your daily skincare routine and enhance skin protection and rejuvenation. Explore the range of vitamin C sunscreen from Lotus Herbals to find the best fit for your skin and keep glowing in youthful and spotless skin!