Best face moisturizer for dry skin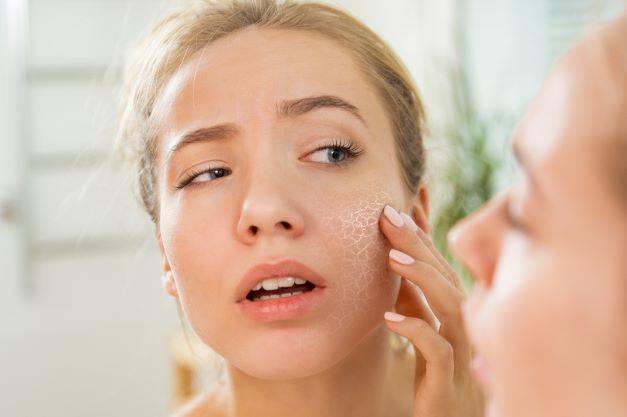 Winter is all here and so is the dryness of the skin. The dryness of our skin is something that we all go through and at times it becomes very difficult to deal with it.
With dryness of skin comes many problems- our skin starts appearing to be dull, and rough, dryness brings tightness, pruritus, severe flaking skin, scaling, cracking of the skin, fine lines, etc. These problems are something which we all prefer to avoid as they could be fatal for your skin.
To combat these problems you need to work on the root cause. First of all, you need to know what causes the dryness of your skin. Various reasons lead to dry skin-
Heat. Today we all go out or do some work in places of high heat (e.g. wood burning stoves, space heaters, etc) which results in the dryness of our skin.
Environment. As you know the weather outside is very cold and therefore getting exposed to cold winter winds or living in low-humidity regions will lead to dry skin.
Too much scrubbing. Scrubbing is very good for your skin as it removes dead skin and dirt. But! When done frequently remove natural oils which lead to skin dryness.
Aging. With each passing age, our skin starts to lose and produces fewer oils which make our skin dry.
Other reasons. People suffering from eczema or psoriasis generally have dry skin.
To deal with the dryness of our skin, we do various things but applying moisturizer is something we all do. It is a major component of our daily regime. If used regularly it helps us to overcome and heal many issues related to dryness of the skin. It consists of ingredients like- emulsifiers, preservatives, amino acids, and antioxidants. Here are some magical roles of a moisturizer.
Role of Moisturizer
Makes your skin hydrated.
Increase the stratum corneum water content of our skin.
Covers skin fissures
Protect skin from damage.
Increase occlusion, hence preventing water loss from our skin.
Smoothens the skin.
Helps in the prevention of corneocyte accumulation.
Maintains skin integrity.
Our face is very sensitive and we should think twice before applying any harsh product on our skin. Today there are various types of moisturizers available in the market. Some are good while some are not that effective. So while purchasing the moisturizer you should choose it wisely.
For your convenience, we have shortlisted some of the best moisturizers that we found in the market. So let's have a look at them-
List of Best Face Moisturizers
Neutrogena Hydro Boost Gel Moisturizer
When it comes to Neutrogena, the name of the brand is enough to know the quality of the product. This is one of the most trusted and recommended brands. Talking about the brand's hydro boost gel moisturizer counts among the selling products.
This gel moisturizer contains hyaluronic acid, which acts on your skin to keep water intact. Not only those with dry skin but also people with oily skin can use it. Here are some of the advantages offered by Neutrogena hydro boost gel moisturizer-
It is free from alcohol and oil.
It is non-comedogenic in Nature
Feels weightless on the skin.
Act as a base for makeup as it contains dimethicone.
Cetaphil Moisturizing Cream
Cetaphil is another one of the most trusted and dermatologically recommended brands for our skin. If you have ever tried any Cetaphil product then you might be knowing what an awesome product they are.
Coming to moisturizing cream, this cream leaves a very matty finish but also humectants, lipids, almond oil, and others. It is dermatologically tested and claims to fight dryness and show immediate results. Here are some of the advantages offered by this moisturizer –
Affordable price
Non-oily and non-sticky in nature
Feels weightless and smooth on application.
Fragrance-free.
Non-irritating in nature.
Deeply moisturizes your skin.
Aquaphor Healing Ointment
Our third product is an Aquaphor Healing Ointment is way more than a moisturizing cream. This cream has been a secret beauty ingredient of many celebrities. Like the above two brands, this brand is also known for delivering valuable products. It is formulated using 41% petrolatum, humectants: panthenol (provitamin B5), glycerin, bisabolol, and Occlusives. These ingredients are known for preserving the moisture of your face, keeping it moisturized. You can apply it 3-4 times a day to get better results.
Here are some advantages offered by this moisturizer-
Restore smoothness and enhance the natural healing process.
Helpful in curing minor burns.
Heal cracked skin and lips
Hydrate the skin and keep it moisturized even during cold weather.
Fragrance-free
Vaseline Petroleum Jelly
Forth one on our list is the moisturizing cream that we all are familiar with. This moisturizing cream by Unilever is a transparent white color jelly that is very easy to apply and provides full coverage and helps to keep your face moisturized.
Apart from being a moisturizing cream, vaseline has other uses too. It can be used to treat sore lips, cuts, minor burns, roughness, etc. It is a mixture of waxes and mineral oils.
Here are some advantages offered by this cream-
Triple purified and pure.
It is hypoallergenic and non-comedogenic in nature.
Efficient in treating minor burns.
Helps heal cracked lips and soften them.
Low cost
Easily available
Lock moisture of your skin
First Aid Beauty Ultra Repair Cream
The last one on our list is a complete moisturizer for the whole body which is known for providing instant hydration to your dry skin. This non-greasy moisturizer gets quickly absorbed by your body and gives you protection by keeping the moisture intact.
It is made up of ingredients like- Antioxidants (Camellia Sinensis Leaf Extract), Glycyrrhiza Glabra Root Extract, Glycerine, Squalane, Ceramide, Allantoin, 0.5% Colloidal Oatmeal, etc. Here are some advantages offered by this moisturizer –
Provide long-term hydrated skin.
Fragrance-free
Suitable for all skin types
Fast absorbing
Good for itchy, flaky, and tired skin.
Contains no parabéns, colorants, or harmful chemicals.
Things you should do if you have dry skin.
Apply moisturizer right after you take a bath. Once you finish taking bath, just apply moisture immediately as it will help to keep the moisture intact and prevent it from loss.
Know your skin. Listen to what your skin is demanding. Avoid experimenting with new products. Also, do not use a product containing alcohol, alpha-hydroxy acid fragrance. This will help you to keep your body's natural oil intact.
Use a product with certain ingredients. Use products with ingredients like- Ceramides and Hyaluronic acid.
Summary
In this article, we have provided complete details about the best moisturizer that people with dry skin can refer to. In this era full of pollution, having dry skin is very common.
Dryness leads to many other skin problems and to combat you should shift towards using the best moisturizer. To have a better understanding we have given you complete information about the role of moisturizers and things you should remember if having dry skin. Hope it will be useful to you and help you to overcome skin dryness.
Thank You!