How to Apply False Lashes and Lash Recommendations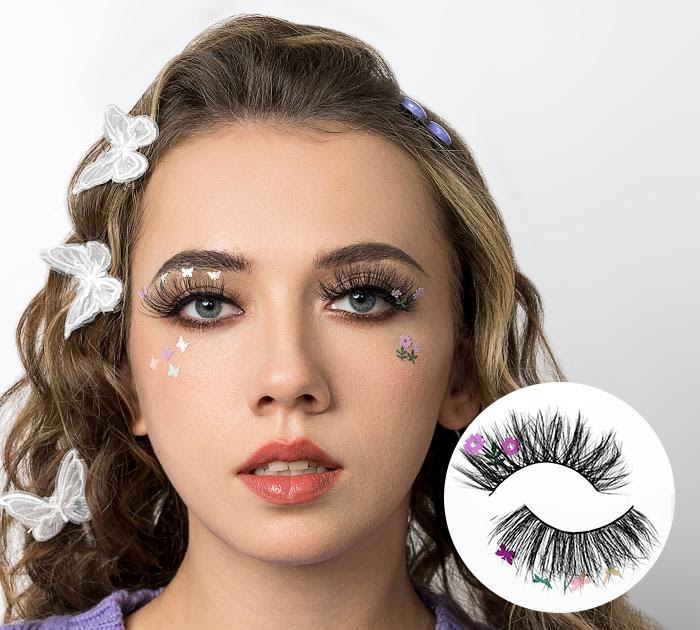 For all makeup and beauty enthusiasts, applying false eyelashes is a step that cannot be skipped. There's a big difference between a look with and without false eyelashes, as they add unparalleled glamour.
Although fake lashes are cheap and easy to put on, using false eyelashes is still a very difficult task for beginners – especially if you want them to look as natural as possible.
To help you out, I'll explain step-by-step in this article how to apply false eyelashes, which tools to use, and include some makeup tips and tricks to help you solve any common false eyelash problems.
How to Apply False Lashes?
Step 1: Remove the lashes from the package.
Take your time, otherwise, you will damage the shape of the lashes. Get as close to the adhesive as possible and gently pull it out with your fingers or tweezers.
Step 2: Trim your lashes to fit your eyes
Before you start wearing it, you should measure your lashes to fit your eyes. The outer lashes should not be left too long, otherwise, they will look droopy and sad. If you need to trim your false lashes, trim from the outside of the strip to remove excess overhang. The inner end of the trimmed lash strip should sit above the end of the iris before the inner corner of the eye begins so that the lashes don't irritate your tear ducts.
Step 3: Apply your lashes with tweezers
After applying the glue, I recommend that you use special tweezers instead of your fingers to put on the lashes as it will be easier and more accurate. I have a little tip for you – using a small mirror. Place the mirror under your face and look down, almost as if you are closing your eyes. In this way, your eyelids will be extended and you will be able to see exactly where to place your lashes.
Lash Recommendations:
Now that you know how to wear false eyelashes, but you can't use that knowledge if you don't have a pair of good quality false eyelashes. Appearanz fake lashes will be your best buy!
All of our lashes are vegan and environmentally friendly, so feel free to buy our products with confidence. Through our innovative design, our lashes are ultra-fine, soft, fluffy, and knot-free, just like real mink hair lashes.
I highly recommend our 3D Faux Mink Lashes collection to you. The lashes in this collection are very voluminous and full and give your look a dramatic accent. Firework is a great beginner lash that has a medium-density and natural shape that doesn't look fake.
For makeup lovers who are already familiar with the everyday look and are looking for a new trend, I recommend the Lashes With Decals collection. This collection adds creative decals to our beautiful lashes to help you add extra interest to your look. The Pink Butterfly is one of our most popular products, and the cute butterfly on the lashes will draw all the attention for you.
What kind of false lashes is your fave? Comment below and share your thoughts with us!