Whiten your Skin with Aloe Vera – It's Benefits & Usage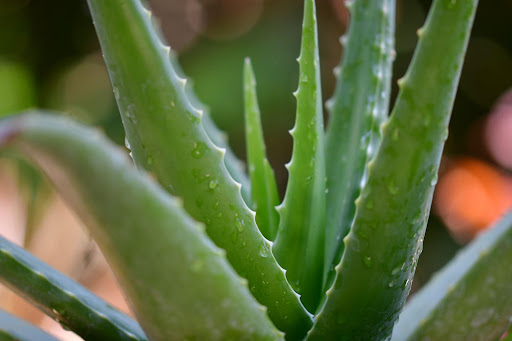 Each of us has noticed a green plant in our backyard that is covered in spikes. Have you ever considered its potential applications or benefits? Don't worry, we've got this covered for you. There are several health benefits of this prickly plant called aloe vera. Aloe vera juice has health advantages for both the skin and hair, as well as for the entire body.
When you have a sunburn, your first thought is to apply Aloe Vera gel to soothe your damaged skin. Aloe vera is a characteristic plant used in medicine and cosmetics. This popular remedy not only guards against sunburns but also helps heal a number of skin conditions such frostbite, psoriasis, and cold sores.
Aloe Vera Has a Few Amazing Face Benefits
Continue reading to discover the many benefits of using aloe vera gel in your daily skincare routine and to learn about all the wonderful uses for aloe vera gel on the face.
Sunburn
Polysaccharides, a class of chemicals contained in aloe vera, help to ensure skin regeneration and the production of new skin cells. Additionally, it contains carboxypeptidase, a painkiller that is in charge of the relaxing sensation we get from using aloe vera.
The plant's anti-inflammatory substance, aloin, helps prevent the peeling that occasionally happens after sunburns.
If your face has visible signs of sun damage like mild sunburns, freckles or dark spots, apply Aloe Vera on your face to get relief and manage symptoms.
Acts As a Moisturiser
Aloe Vera moisturises the skin without leaving a greasy behind because it contains 95% water. In addition to moisturising the skin, aloe vera acts as a gum to aid in the top layer of skin cells adhering to one another. This results in the creation of smoother, softer skin.
Even for those with sensitive and oily skin, aloe vera has been demonstrated to be an excellent moisturiser.
Mouth Sores
In addition to all sunburns, it helps treat common oral conditions like fever blisters and cold sores outside the mouth. It helps with the herpes virus treatment, which is what initially causes cold sores. Simply apply a small amount of the gel twice a day on the cold sore to get rid of it.
Signs of Ageing
Your skin starts to appear increasingly sallow as you age. It becomes less elastic and wrinkled. Aloe Vera can help you resolve this problem, though. Aloe vera is used to prevent the signs of ageing because research has shown that it can restore the skin's suppleness when applied topically or eaten inside. It restores the skin's vitality and replenishes lost moisture.
Fights Acne & Fades Marks
Aloe vera's anti-inflammatory and antibacterial properties allow us to completely avoid acquiring acne. You need to know how. Aloe vera helps to prevent the acne-causing germs. The salicylic acid included in aloe vera is highly effective at clearing up clogged pores when you have acne and blackheads. Additionally, aloe vera helps to get rid of troublesome scars and lighten blemishes.
Aids in Relieving Skin Irritation
For sensitive skin, aloe vera is a great ingredient. Itching, rash, infection, and redness can all be reduced thanks to the plant's cooling properties. It makes sense that it is essential for summertime skin care.
Cleaning Of the Skin
Did you know that Aloe Vera can aid in your skin's recovery from a day's worth of activity? As a result, it may help to repair your acne scars, dark spots, and sunburns as well as remove the buildup caused by exposure to dirt and pollutants.
Exfoliates the Skin
Aloe Vera gel contains salicylic acid, which can function as an exfoliant by gently removing dead skin cells.
Bottom line
The usage of the Aloe Vera plant or its derivatives is a superb natural cure for skin whitening that also minimises the cost of pricy medical procedures. However, women with sensitive skin should use caution when directly applying highly concentrated chemicals to their skin. This approach could lead to undesirable results like pimples, acne, and pore obstruction.Wait no longer, now that we've shown you some amazing ways to use aloe vera efficiently for skin whitening! Experience the effectiveness of aloe vera for skin whitening by getting your hands on the best face cleansers from BiE.